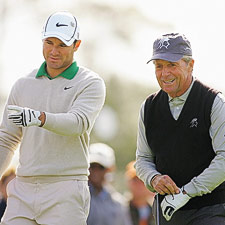 2008 Masters Champion Trevor Immelman kids around with this childhood hero Gary Player on the first tee at the Augusta National Golf Club in Augusta, Georgia.
The Cape of Good Golf
South Africa's golfers garner more major championships than any nationality other than Americans
(continued from page 3)
Clark and Sabbatini took a route to the PGA Tour that doesn't exist in South Africa, the one aspect of the game in which the country comes up lacking. Clark and Sabbatini came to America to play college golf, Clark at North Carolina State and Sabbatini at the University of Arizona. Clark lives permanently in Scottsdale, Arizona. While Sabbatini resides in Fort Worth, Texas.
"The one thing we don't have in South Africa is that there is no next step from the junior golf programs," says Clark. "There is nothing like the college golf in the United States. You either turn pro and try to make a living, or you don't and try to do something else. I worked for two years in a pro shop and a friend of mine who had gone to North Carolina State told the coach about me, the coach called and I ended up going there, which was huge."
"U.S. colleges are a great thing for international players," says Sabbatini. "You get great competition and it gives you a chance to mature. Like Tim said, there isn't that next step in South Africa so to be able to play college golf in the U.S. is extremely beneficial if you are thinking about being a pro."
South Africa has several other players entering their prime who could have big impacts on international tours in the years ahead. Schwartzel is a five-time winner on the European Tour. Oosthuizen has won once on the European Tour, several times in South Africa and is a steady performer. Then there is Thomas Aiken, an-up-and coming 26-year-old. After struggling initially to make the European Tour, could he be the next big player, especially taking into account his 46th place finish in the Race to Dubai?
Aiken didn't take the American college route. His father said he needed to make the choice between being a student or being a professional golfer, so Aiken took the pro route. "My father said 'Are you going to go to college or are you going to play golf?' " says Aiken. So I turned pro at 18, and it's a been a journey that's been difficult at times."
But part of that journey started long ago when he met Gary Player on a beach at Plettenbeurg Bay. He was five years old and not yet of an age where he was dreaming of being a golf champion. "I do remember what a kind and generous man he was," says Aiken. "That he was a great champion golfer wouldn't have been so important then. But it would be as I took up the game and began to love it. I have always admired Gary Player, always wanted to be like him."
Now 26, Aiken has a ways to go before he can be considered a champion golfer. He finished tied for eighth at the British Open in 2009 and had a fourth-place finish in the prestigious Alfred Dunhill Championship. But he has seven victories on the Sunshine Tour, and he says he's ready to take the next step up. "I'm pretty ready to win now," he says. "I'm being patient, waiting for the right time, working hard, waiting for the lucky break."
And Aiken does a good job of summing up the South African success story: "The weather has a lot do with it, the courses have a lot to do with it, the junior golf programs have a lot to do with it, Gary Player has a lot to do with it."
But the ultimate summing up must be left to Player himself: "We have it all here, don't we."
Jeff Williams is a Cigar Aficionado contributing editor.
You must be logged in to post a comment.
Log In If You're Already Registered At Cigar Aficionado Online