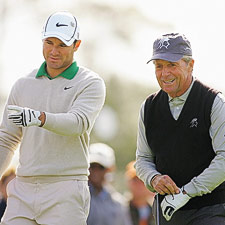 2008 Masters Champion Trevor Immelman kids around with this childhood hero Gary Player on the first tee at the Augusta National Golf Club in Augusta, Georgia.
The Cape of Good Golf
South Africa's golfers garner more major championships than any nationality other than Americans
(continued from page 2)
But championship golf needs inspiration, and South Africa has been blessed with that as well, starting with the good general Torrens. Ever hear of Sid Brews?
Long before there was the iconic Gary Player, Sidney Brews-born in England but raised and nurtured in South Africa-became the country's most prominent player in the 1920s and 30s. He won the South African Open eight times. In 1934 he won the African, French and Dutch Opens and finished second to Henry Cotton in the British Open. Brews also became an influential designer of South African courses.
Then came South Africa's first major championship winner, and a man who would influence the game itself. Arthur D'Arcy "Bobby" Locke was one heckuva player who uttered one of golf's most tried and true adages: "You drive for show, but you putt for dough."
Locke won the British Open four times between 1949 and 1957. His victory total is put at 72 worldwide with 11 of those coming on the PGA Tour. In the winter of 1947 Sam Snead went to South Africa to play a series of exhibition matches with Locke, and was so impressed that he persuaded Locke to come to America and try the PGA Tour, much to the chagrin of Snead's fellow American professionals. Locke won six tournaments on the PGA Tour in 1947 and finished second to Jimmy Demaret on the money list. In 1948 he won the Chicago Victory National tournament by 16 shots.
"You know, Bobby Locke is put way down the list and he would have beaten 80 per cent of the players they are rating today," says Player. "He beat Sam Snead like a drum. He beat Ben Hogan, he beat them all. I see players highly rated in magazines that Bobby Locke would have eaten for breakfast.
"The last thing he worried about was hitting the ball a long ways. He said that was the most unimportant thing in golf. He was as good a putter as ever lived. He didn't putt on the greens we have today. He putted on old grainy common Bermuda. I played 100 rounds of golf with him and it was like watching a machine putt. It's unimaginable what he would have done on the greens we have today."
From the time he was a teenager, Gary Player knew what he wanted to be, and, not lacking in confidence, said he would become the best player in the world. The son of a miner of modest means whose mother died of cancer when he was young, Player discovered from his very first slashes at the ball that golf was already built into his soul. He practiced without limits, and became golf's first fitness freak. He was a small man (5' 7", maybe 150 pounds with his spikes on) with an outsized ego and the talent to back it up. Playing in the era of Arnold Palmer and Jack Nicklaus, Player forced his way to the pinnacle of the game and became part of The Big Three.
He flew around the world so many times that there were airplane seats that bore his imprint. By his own count he won 164 tournaments on every continent except Antarctica, and by anyone's count, nine of those were major championships. He won three British Opens, three Masters, two PGA Championships and one U.S. Open.
Having done this at the beginning of the television age and in the company of the great Palmer and Nicklaus, Player's accomplishments reverberated across South Africa and launched a generation of major championship winners and highly competitive professionals. Price, Els, Goosen, Immelman followed, and a host of other top players.
"When I started playing competitively Gary Player was still playing and of course he was a huge inspiration to us all," says Clark. "Ernie Els was winning his first U.S. Open [1994] and Nick Price was winning majors. We had great players at home like Hugh Biaocchi, John Bland and Simon Hobday. There was so much you could draw from."
You must be logged in to post a comment.
Log In If You're Already Registered At Cigar Aficionado Online