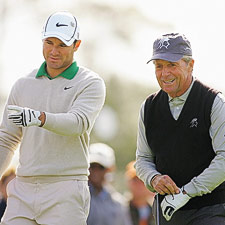 2008 Masters Champion Trevor Immelman kids around with this childhood hero Gary Player on the first tee at the Augusta National Golf Club in Augusta, Georgia.
The Cape of Good Golf
South Africa's golfers garner more major championships than any nationality other than Americans
(continued from page 1)
Little did the general know that he had not only satisfied his longing for his favorite recreation, but the seeds of the game he had planted would be sown by immigrants throughout the country, to Johannesburg, to Durban, to Port Elizabeth and, of course, to the lovely contemporary city of Cape Town. In a country where cricket and rugby occupied dual thrones among the sporting royalty, golf would grow with such vigor that it would soon rival the mother country in quality of courses and quality of players.
But just how is it that South Africa has managed to produce not merely competitive, or successful professional players, but those of such excellent championship pedigree?
"It's the weather, you can't beat it," says Player.
"The weather, you can play all year round. There is no off-season," says Tim Clark.
"The weather. It's unbelievable weather 365 days a year," says Nick Price.
The weather, similar to that of the central coast of California (think Monterey Peninsula, think Pebble Beach), is ideally conducive to playing the game, but there must be something else, some driving force that has led this country of about 50 million to churn out champions on an impressive scale.
"We are a sporting nation, just like the United States," says Els. "Seems like everyone plays a sport, cricket, rugby, soccer, tennis, golf. We are quite athletic as a nation and quite competitive. You know, you look about age 13 or 14 how you are as say a rugby player. If you don't think you can be the best, then you might look at golf, which is what I did."
Fostering that competitive spirit is a private club system that embraces junior players and allows them access to their courses for a pittance, and junior golf programs throughout the nation which sponsor players and conduct tournaments.
 
"The golf foundations are really good about promoting junior golf and it doesn't a cost a fortune for a junior player to play tournaments," says Rory Sabbatini. "In South Africa you paid the equivalent of about seven dollars to play in a tournament. We have tournaments in all the states so you didn't have to travel a long ways to play competitively. It's not as much of a hierarchal sport in South Africa. Not nearly as expensive or exclusive as the United States. My junior fee at Royal Durban [a local country club] was like $25 a year. There is such an enjoyment of golf in South Africa. The people are just so enthusiastic."
Then you have courses of very high standard to play on, more than 500 courses in all. The Durban Country Club is often ranked among the top 100 courses in the world. Gary Player has designed many of South Africa's best courses, such as Leopard Creek in Kruger National Park (ranked the best in South Africa and the 25th best in the world outside the United States), the Gary Player Country Club at Sun City (54th  outside the United States) and the three courses at Fancourt.
 
"There are 100 golf courses within a 70-mile radius of Johannesburg," says Player. "There are as good as any on the planet. The standard of golf courses in South Africa is quite high, as high as you are likely to find."
Now add a very good professional tour to the mix. The Sunshine Tour of Southern Africa has long been an excellent starting point not only for young Southern African players, but Europeans looking for a place to play in tolerable weather in the winter months. A player can qualify for the European Tour straight off the top of the Sunshine Tour's Order of Merit, and can also get into World Championship Golf events.
 
So there you have seminal blend of golfing elements-weather, accessible courses of great quality, junior golf programs, a highly regarded professional tour and a sporting gene in the blood of the country. "We have it all," says Nick Price.
You must be logged in to post a comment.
Log In If You're Already Registered At Cigar Aficionado Online