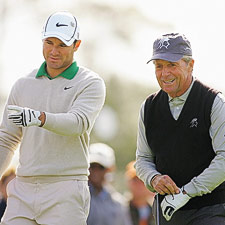 2008 Masters Champion Trevor Immelman kids around with this childhood hero Gary Player on the first tee at the Augusta National Golf Club in Augusta, Georgia.
The Cape of Good Golf
South Africa's golfers garner more major championships than any nationality other than Americans
Gary Player, Bobby Locke, Nick Price, Ernie Els, Retief Goosen, Trevor Immelman, Sally Little. And now, Louis Oosthuizen. An eight-some of major championship winners that share a single, and special, trait. They are all South Africans.
South Africa. Land of 50 million souls with an outstanding sporting pedigree, and while cricket and rugby (and now soccer) are the games of the masses, the golfers of South Africa have made an indelible impression on the game worldwide.
And what an impression Oosthuizen made the third week of July, winning the British Open at St Andrews with one of the finest performances in championship golf history. Oosthuizen won by seven shots, crushing the field with pinpoint driving, knowing iron-play and superb putting, an exhibition nothing short of world class and one that continues the world-class legacy of the South African golf.
Going back five generations, there was Bobby Locke, winner of four British Open championships. He was followed by the nonpareil Gary Player, one of the game's all-time greats with nine major championships. In Player's spike marks came other major championship winners—Ernie Els, Retief Goosen, Trevor Immelman. And we must include Nick Price, raised in neighboring Zimbabwe (then it was Rhodesia), but born to British parents in Durban. And we also must not leave out Sally Little, an LPGA major championship winner.
"Isn't it remarkable to think that South Africa has won more major championships post war than any country on the planet except America," says Player. "It's a big feather in our cap, isn't it?"
While Great Britain has produced a number of top-flight players since World War II—Nick Faldo, Tony Jacklin, Sandy Lyle, Ian Woosnam, the non-major winning Colin Montgomerie—South Africa has churned them out consistently. Male players from Great Britain, including England, Scotland, Wales and Northern Ireland, have won 16 major championships since 1946 when tournament golf was resumed after World War II. South African men have won 23 in that time period.
Just look at the PGA Tour today, where players such as Tim Clark (recent winner of the Players Championship), Rory Sabbatini, Els, Goosen and Immelman play regularly, where David Frost was a stalwart before joining the Champions Tour alongside Price. Brandon de Jonge (Zimbabwe), Garth Mulroy and the Pappas brothers, Deane and Brenden, are trying to make names for themselves. In Europe, Charl Schwartzel and Louis Oosthuizen are contenders. Lurking on the horizon is Thomas Aiken.
"It took the world, particularly America, a long time to realize how many wonderful golfers South Africa has produced," says Player. "When I first came to America, it was 'Do you have golf courses back there? Do you have big highways there?' I tried to explain that it was just as sophisticated as the United States."
There is a long history of golf in South Africa, one that rivals the game in the United States. When General Sir Henry Torrens was sent to command British troops in the Cape colony of South Africa in 1885, the old boy missed his golf so dearly that among the very first things he did was conjure up a golf course.
As the lore goes, nine days after assuming command Torrens rounded up potential players for a meeting, established the Cape Golf Club at the Wynberg military encampment, figured out a routing, and by early 1886 the first golf course in South Africa was established. For good measure, he won the club's first tournament.
You must be logged in to post a comment.
Log In If You're Already Registered At Cigar Aficionado Online