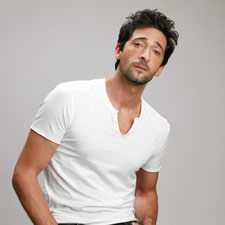 From the Pianist to the Predator
Adrien Brody seeks roles that define truths for him as an actor and a human being
(continued from page 6)
Brody brought an energetic thoughtfulness to the drollery of Wes Anderson's The Darjeeling Limited and Rian Johnson's The Brothers Bloom, playing two very different but very funny characters. And he appreciated the chance to explore his own comic instincts.
"When we got to the work of the comedic scenes, it felt as though I fit right in," he says. "That seemed to surprise other people but there shouldn't be anything surprising about it. Or maybe it's that you should always be surprised at what actors do."
Though he did some off-Broadway theater as a teen, Brody has no particular desire to work in theater. He had discussions this year about a possible Broadway run ("A two-hander with an actor I admire"), but the idea fell apart because Brody had a schedule conflict: "It's a difficult challenge because of the time commitment," the peripatetic actor says.
"It didn't work this time around. I am more drawn to film. I'm very comfortable working there."
Brody could make films nonstop for several years in a row, if he let himself. He's unsure about giving up the pace of an in-demand movie actor anytime soon. Sure, he says, he'd like to direct-except that a director generally commits an entire year or more to make a movie, from pre-production to post. Brody could play a handful of acting roles in the same interval.
"I aspire to direct-it's a matter of zoning in on the right material," he says. "As far as me being comfortable, that's not the question anymore. It's more a time-commitment issue. It takes an enormous amount of time to do well. If I found something that really spoke to me, I would take a break and cultivate it and pursue it and try to make something special."
Brody claims never to have done an acting role simply for the money, because he knows how slippery that slope can be.
"Everybody has a price, I'm sure," he says. "Often times, the jobs you'll be well-compensated for are that way for a reason. The roles that speak to you usually don't have resounding success, or even compensate you fairly. There is a balance you try to strike.
"Really, if I wasn't an actor, I don't know what the alternative would be. I'm glad I don't have to face that."
Contributing editor Marshall Fine writes about film and entertainment at www.hollywoodandfine.com.
You must be logged in to post a comment.
Log In If You're Already Registered At Cigar Aficionado Online