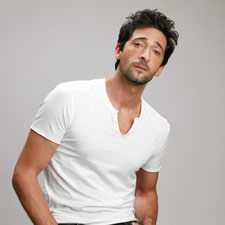 From the Pianist to the Predator
Adrien Brody seeks roles that define truths for him as an actor and a human being
(continued from page 5)
When an actor wins an Oscar, a couple of things happen. Most of them have to do with money: higher salaries, offers to appear in movies with bigger budgets, an increase in the number of people who want a piece of you. After winning his Oscar, Brody assiduously tried to avoid letting himself get caught in the undertow of this tsunami of attention.
He's tried to find the balance between seizing the moment for its commercial potential and taking bigger artistic gambles. The pressure he feels is potentially mind-numbing.
"I was fearful initially, when I received such a tremendous level of recognition for The Pianist and the Academy Award," he says. "It's very difficult to understand. It was important to me to not change for the worse, but I wasn't sure how something that powerful would affect me as a person. I was very careful for a long time. I stayed in a lot. Or rather, let's say I didn't fall into temptation. And believe me, there were more opportunities, in all aspects of life. But I was old enough and had worked hard and long enough to know what was important.
"What I've tried to do is be consistent and honest with myself about what is inspirational and challenging and has a degree of risk to it. I don't want to change that as a result of having this perceived pressure, this commercial viability. The risk is that you have the opportunity to do things that make sense for their own reasons. But you've got to be honest with yourself, to keep exploring and trying different things."
Which is how Brody wound up in this past summer's Predators, a continuation of a sci-fi-thriller series that started with a 1987 Arnold Schwarzenegger film. Given his background—an Oscar-winning habitué of independent films—Predators seems like an unusual choice for Brody. And Brody in some ways is an unexpected choice for Predators. Still, Brody is mildly offended that people assume that he's slumming in some way.
"I'm surprised when people ask me why I'd do a movie like Predators, as if it were beneath me," he says.
If Brody was ready for Predators, the studio behind the film wasn't necessarily ready for him, because Brody had to battle to be considered for the part.
"Perhaps the studio needed a little bit of persuasion," he says. "I guess that's understandable. I'm not going to be the first person on the list you'd pick—viscerally, physically—as someone to fight the Predator. Look, you can't replace Schwarzenegger. He's iconic. He has that image. I loved the original Predator; I'm protective of the brand. I would never push myself into something for the wrong reasons. I also believe I can be more true to what soldiers are like. They're not superhuman but they're fit enough to endure the challenges in combat. That's why I put on weight and went through a large physical transformation.
"I've been looking for many years, trying to find a great, flawed, contemporary lead—to be a heroic lead in a studio film. I wanted to play a character who was just a man, not a period piece, not from a special place. It's given to a select few to have that as a type, to fit the mold that the studio feels is a safe bet. I've always tried to do something different with my work because I love the challenge of that. But it's hard for people not to associate me with a certain type.
"I think I established myself as someone who is serious about work. I care about being truthful. That doesn't mean I'm that serious about everything. I don't live in a constant state of everything being dead serious. But there was a while where I couldn't get comedic roles. I'm just thankful that directors like Wes and Rian believed in me."
You must be logged in to post a comment.
Log In If You're Already Registered At Cigar Aficionado Online