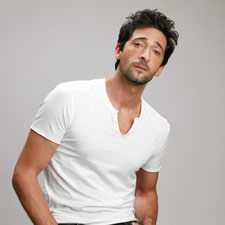 From the Pianist to the Predator
Adrien Brody seeks roles that define truths for him as an actor and a human being
(continued from page 4)
And his dance card is full into the foreseeable future: "I'm going to do a movie with Woody Allen this summer in Paris. Then I'm doing a film in New York, then I'm going to a festival in Shanghai. I do like to have space in between projects to settle in a little and reconnect with friends and see my family. It's a balancing act but it's also more interesting to have a lot of options. So I'm thankful for the opportunities. It's better than not having anything to do.
"It's difficult to say no to films when there are places you want to see and adventures you want to take. The time will come when I won't have the freedom-or I'll have less inclination to travel."
In other words, marriage, perhaps, or a family?
"It's not imminent, but you never know when it becomes imminent," he says. "But eventually, of course, I want kids. Most people do. Family is important. But I travel an awful lot and I spend an awful lot of time on the road."
Before sitting down to talk, Brody had been at a photo shoot in a studio in West Hollywood. After trying on several different looks, Brody came out of the dressing room in a gray Prada suit and arranged himself around a leather easy chair and a number of obviously vintage hardbound books.
He leaned against the chair, then leaned on an elbow near the books, now holding a book as though interrupted reading, now looking at the book itself. As the photographer shot and offered suggestions, Brody looked downward between flashes, as though composing himself for the next shot, then stared directly into the camera, each time with a different cast to his eyes: now dominant, now vulnerable, now guarded-the wisecracker, the anxious lover, the hoodlum. The tortured soul. The bon vivant. All in that many clicks of the shutter.
Before the photo session finished, he changed clothes three times, eventually stripping down to a Henley-neck white T-shirt and a pair of black jeans, even as the backdrop was stripped of chairs and books until Brody was a lone man in a taupe-colored corner, with a different expression seemingly for each click of the camera.
Is it an acting exercise? A kind of interior performance only for the still camera? "I don't look at that as acting," he says. "It's just something that comes with the territory. You're putting on clothes you've never tried on and trying to make that look good. You're trying to find a balance and give the photographer what he's looking for. My mother is a photographer so I'm accustomed to being photographed. I'm far more interested in playing a character than in being photographed."
One of the props during the photo shoot was a cigar. But it went unlit—for a reason.
"I like them—but if I have one, I'm afraid it would lead me to start smoking cigarettes again," he says. "I got hooked on cigarettes making a movie when I was 19. I'd played around with them before, but that movie hooked me, smoking Lucky Strikes and Camels. I quit 10 years ago. I smoke cigarettes in roles all the time and it's very challenging. I'll tell you, it's very comfortable to have a cigar in my hand. I was in St. Petersburg recently and everyone was smoking Cohibas. And I love that smell. I'm happy to hold a cigar for a picture, but it wouldn't be sincere for me to light it."
You must be logged in to post a comment.
Log In If You're Already Registered At Cigar Aficionado Online