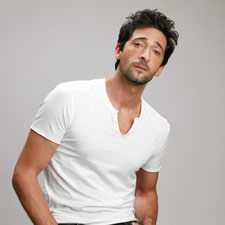 From the Pianist to the Predator
Adrien Brody seeks roles that define truths for him as an actor and a human being
(continued from page 3)
He tried college at CUNY Queens, but realized that he only wanted to spend his time acting. So he moved to Los Angeles "and gave myself a window, although I didn't stick to it. I gave myself six months and I got work after seven. It was the right decision to stay. And I've been able to support myself since. But I was paying dues out here for many years.
"It can be stressful in a ways I didn't know how to process at the time," he says. "At one point, I considered giving up acting and being a fireman. I thought there was a more straightforward reward that occurred when you worked at the fire station in your neighborhood."
Brody began to find work in edgy, odd and funny mid-1990s independent films-movies with titles like Bullet and Ten Benny and Restaurant, before landing what was supposed to be the lead role in reclusive filmmaker Terrence Malick's adaptation of James Jones' The Thin Red Line.
It was a life-changing role, or so Brody thought. He was playing a character based on Jones himself, and Malick spent a lot of time shooting pages of script that focused on Brody's character. As the movie's release approached, Vanity Fair ran a cover story about the relatively unknown Brody, predicting that the film would light the fuse on his career. Between boot-camp training for the film and shooting in Australia and the Solomon Islands, Brody went through "a six-month ordeal" for the role that was supposed to open all the doors.
But when the long-in-the-making Line reached theaters, Brody was barely in it, because much of his role had been cut out by Malick during editing. It wasn't because of Brody's performance, Malick later said. Rather, the writer-director had decided to change the structure and focus of the story he wanted to tell. And that didn't include much of Brody's character.
"I guess that's Hollywood lore at this point," Brody says. "All he said to me before it came out was, 'Well, some of it has been reduced.' That experience taught me to lessen my expectations. Expectations are inevitable, but this taught me not to focus on that. It was a valuable lesson, especially in this business.
"It's in the past. Some of the understanding of loss of something so meaningful to me perhaps paved the way to my future understanding of loss which was necessary in working in The Pianist."
It was, in fact, four years between the release of Thin Red Line and The Pianist, and in the interim, Brody made eight films, working with a variety of directors, including Spike Lee (playing a bisexual Mohawk-haired punk rocker in Summer of Sam) and Barry Levinson (playing a would-be college guy in early 1960s Baltimore). Indeed, Brody literally played the roles back to back, finishing his final scene for Lee in New York on the morning of a day he shot his first scene with Levinson in Baltimore in the evening.
Inactivity is not an issue with Brody. Since winning the Oscar in 2003, he's acted in almost a score of projects-from smaller independent films such as Cadillac Records (where he played music mogul Leonard Chess) and Manolete (one of a couple films he made that were not released in the U.S.) to blockbusters like Peter Jackson's remake of King Kong, where Brody spent as much time in front of a green screen pretending to be chased by dinosaurs and a certain giant ape as he did on actual locations.
Brody could have as many as five movies released in the calendar year by the end of 2010: The Experiment, Predators the already released Splice and two more independent films that may yet land in theaters or on the festival circuit.
You must be logged in to post a comment.
Log In If You're Already Registered At Cigar Aficionado Online