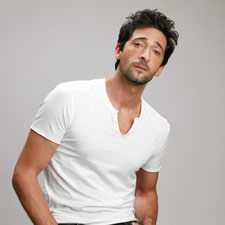 From the Pianist to the Predator
Adrien Brody seeks roles that define truths for him as an actor and a human being
(continued from page 2)
Anative of Queens, New York, Brody started acting because his mother, photographer Sylvia Plachy, happened to do a photo shoot at the American Academy of Dramatic Arts. She thought her adolescent son might have fun taking a teen acting class and hoped it would take him away from the streets, where he was on the verge of getting into the kind of thoughtless trouble that inevitably finds bored teens with too much time on their hands and too little supervision.
"The worst thing I ever did that my parents don't know about?" Brody says, thinking about days of youthful wildness and smiling mysteriously. "I'm not going to tell you so you can put it in a magazine for them to read.
"Trouble was always there in my environment. We were young guys. It was just a lot of that energy that kids in New York have, when being a troublemaker is an attractive thing. You want to rebel, to feel an element of danger. I've never tried to glorify it in discussions, though it's often been misconstrued."
Instead, as a young teen, Brody was enrolled in an acting class. And much to his surprise, he found that he was good at it. More important, his parents took his interest in acting seriously.
"Look, there are two key factors there: First, my parents didn't shut me down or shut me off, even though I was rambunctious," he says. "They had a lot of patience and treated me with respect. I was not made to shut up. And most of my friends I grew up with had a harsh environment to deal with-on the street and at home.
"My imagination wasn't stifled at a young age. And the fact that my mom stumbled across an opportunity for me to do something creative that suited me without having the pressure of a career, was the other thing. I was an actor and she could see it, even if I couldn't."
In fact, he had success quickly, finding an agent and landing a role at 14 in a PBS film, "Home at Last," playing a New York street kid sent to live with a Swedish farm family in Nebraska in the 1800s.
"I was in high school and I went off to Nebraska by myself and I loved it," he says. "I was playing an orphan from the 1800s and I went wild. I hung out with the wranglers' sons and was riding horses and chewing tobacco and having amazing experiences. I remember when it was over, the director kiddingly said that they were going to turn it into a series. I was ready, I didn't want the experience to end."
Instead, Brody came back to New York and went to LaGuardia High School of the Performing Arts and studied, even while continuing to audition for roles.
"I took it very seriously," he says. "I didn't have a tremendous amount of success at first, but I had a lot of discipline."
You must be logged in to post a comment.
Log In If You're Already Registered At Cigar Aficionado Online