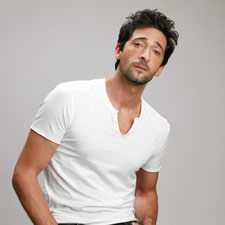 From the Pianist to the Predator
Adrien Brody seeks roles that define truths for him as an actor and a human being
(continued from page 1)
"Adrien Brody is a great actor—period," says Nimrod Antal, who directed him in this summer's Predators. "Not only is Adrien talented but he's passionate. Nowadays, a lot of actors are spoiled. But Adrien is passionate to be there. You know he'd kill to do this film."
Brody's reputation is built around immersing himself in the world of his character in any way he can. In the course of a career, Brody has buried himself over and over in the rigors of learning skills and trying to emulate the lifestyle of the characters he is playing. Aside from studying both piano and Polish for The Pianist, Brody learned the physical rigors of such pursuits as being a matador, riding horses, fencing and the like for other films.
For The Pianist, he systematically lost weight. For Predators, Brody packed on 25 pounds of lean muscle mass to transform himself into the warrior he wanted to play.
"It's exciting when you physically change, when you change your body chemistry and you feel a transformation, it helps you feel a connection to the character," he says. "You feel different from yourself. It's another level of involvement."
The discipline involved with gaining that kind of weight was similar to the regimen he used to lose it for The Pianist: "Putting on weight obviously is more enjoyable, though I was trying to put on lean muscle. So they're both very strict diets. But one diet builds confidence and the other strips it away. The diets are similar, but with volumes more food when you're building muscle. I have a fast metabolism so I had to gain mass and then shred it. I started with heavy weights to put on size; then I did higher repetitions with smaller weights to give the muscles definition. No carbs and I did a work-out with more cardio."
"He's a badass," Antal says. "The physical transformation blew me away. It was a way for him to really get in character. When you see him stripped down, it's impressive. He turned himself into a monster-and I mean that in the best way."
Brody's research for the Predators role didn't end with his physical conditioning. To get a sense of what it's like to be lost on a distant jungle planet, Brody tried to approximate the situation on the film's Hawaiian locations.
"I was fortunate on Predators to be able to stay in the jungle, on the property where we were shooting," Brody says. "They let me stay in a bungalow in the back. It was thousands of acres of lush rainforest-it was practically prehistoric. It was gorgeous. I'd walk around at night in the jungle. That was wonderful in helping me get further outside myself and into a zone."
But the physical changes of playing a role can be short-lived: After finishing Predators, Brody went to India to shoot scenes for The Experiment, a drama released on DVD, and fell victim to a stomach parasite that cost him 10 pounds in a single week "and that was all muscle."
He'd barely recovered before he got back to North America to make Wrecked, about the victim of a car accident forced to survive in the wild: "The sickness kind of knocked me down and weakened me," he says. "But I still decided to spend a night in the woods, eating insects in February in Canada. As unpleasant as that transition was, it helped me make the shift as quickly as possible. I try to look on the bright side."
You must be logged in to post a comment.
Log In If You're Already Registered At Cigar Aficionado Online