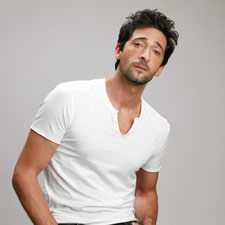 From the Pianist to the Predator
Adrien Brody seeks roles that define truths for him as an actor and a human being
The question, perhaps impertinently, came at the end of the interview and it had to do with the most memorable adjective ever used to describe Adrien Brody's nose. Brody, who is a handsome man with a well-known nose, laughed, and said, "My nose? You're asking me to describe my nose? I'll leave that to you." Some suggestions are offered: Aquiline? Roman? Prominent? "Unique," Brody says and chuckles to himself.
It's late June and Brody, 37, is sitting at a terrace table in the garden of the Chateau Marmont, in West Hollywood. He is dressed casually—t-shirt, jeans—and looks unassuming. Despite being instantly recognizable because of his trademark profile, Brody has no trouble losing himself in the parts he plays.
Indeed, he is one of Hollywood's premier transformation artists. Give him a movie role and Brody buries himself in it, doing whatever it takes to infuse his mind and soul with the consciousness and the world of the character he's playing.
Consider his research and preparation for his Oscar-winning turn in the 2002 film The Pianist directed by Roman Polanski. Aside from spending hours learning to play Chopin on the piano, Brody methodically shed 30 pounds from his already wiry frame to convincingly portray Polish Jew Wladyslaw Szpilman, a pianist who spent the Holocaust hiding from the Nazis (and nearly starving in the process) in Warsaw, which had been systematically emptied of its Jewish population. At one point in his preparation, Brody temporarily gave up his apartment and car, shedding possessions to understand the sense of dispossession that Szpilman went through.
It's not an easy method-or Method-but it's the one that works for Brody.
"The reality is that, for me, acting is somewhat of a painful process," he says. "A beautiful process, but a painful one. The more I have to do battle to find truth, the more painful it is if I don't, because film is permanent. So it's important the work I choose is something I can have that confidence in. Otherwise, a movie becomes a permanent reminder of a mistake you made."
The role in The Pianist was a physical and emotional challenge-one in which he left Adrien Brody behind, even while drawing on the frustrations of his own career, which was already more than a decade old when he was suddenly "discovered" by world audiences in Polanski's film. Brody went from being a relative unknown to an Oscar-winner-but one whose past seemed mysterious to audiences and the film industry alike.
On March 23, 2003, the night he won the Oscar, Brody became not only the youngest Best Actor honoree but the only first-time nominee ever to triumph over a field composed of previous winners: Jack Nicholson (About Schmidt), Nicolas Cage (Adaptation), Daniel Day-Lewis (Gangs of New York) and Michael Caine (The Quiet American).
He went from relative anonymity to being incorrectly typecast as, among other things, sensitive, musical-and Polish. Most audience members (and even industry insiders) were unaware that Brody had been struggling and working for a dozen years. More than a few casting agents assumed that Brody was actually from Poland, or at a minimum, Europe.
That perception was so pervasive that, shortly after Brody won the Oscar (and planted that memorable kiss on presenter Halle Berry), Brody's father, a retired history professor, found himself engaged in conversation with a seatmate on an airplane. When talk somehow turned to the seatmate's thoughts about the newly anointed Oscar winner, the new acquaintance expressed his belief that Brody was, in fact, a Polish actor, not an American one. Brody's father disagreed and assured his seatmate that Brody was a New Yorker by birth. When the seatmate wondered how Brody's father could be so sure, Brody's father replied, "I follow the industry."
Most people in the industry hadn't been paying that kind of attention, however. Brody was being discovered, but the role itself limited perceptions of what kind of range he could achieve. So Brody has had to battle reductive impressions, though it's usually a mistake to limit your idea of what Brody can do.
You must be logged in to post a comment.
Log In If You're Already Registered At Cigar Aficionado Online