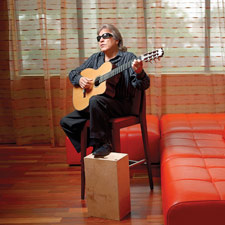 Light My Fire
In his nearly 50-year career, music legend José Feliciano has ignited controversy, crossover and more than his share of Cuban smokes.
(continued from page 2)
"José definitely took Latin music worldwide," says record producer Emilio Estefan, architect of his wife Gloria's own remarkable crossover career. "His music was a mixture of Latin music and American music, and he brought a feeling to it, brought his quality as a person, as a musician. He opened a lot of doors for a lot of people."
Feliciano, however, never really considered himself a Latin pioneer. "To me," he says, "it was about getting on TV or [making a record]. It wasn't until later that I began to see myself as a spokesman." It's a role he has since taken seriously and expanded well beyond music. In the early 2000s, he participated in protests against the U.S. Navy's use of Vieques-an island municipality of Puerto Rico with a population of around 10,000-as a bombing range and training ground. "He was raised in New York, but he has his roots in Puerto Rico," offers Velázquez, who, in addition to being Feliciano's executive assistant, is a second cousin. "He went there because people were suffering." The campaign proved successful. The Navy pulled out of Vieques in 2003.
Two years later, after Hurricane Katrina hit the Gulf Coast, Feliciano used his influence to convince officials to extend aid to those victims of the storm whose immigration status was unclear-without seeking retribution. And just last December, he took a vocal stand against the hijacking of "Feliz Navidad" by a right-wing group who released a parody of the song titled "Illegal Aliens in My Yard." Feliciano says he found the lyrics, which included references to undocumented immigrants spreading bubonic plague and tuberculosis, "very offensive [because] America is a land of immigrants." The group responsible for the parody apologized and removed it from its Web site a few days before Christmas.
Feliciano doesn't let negative experiences like that-or, really, much of anything-get to him. "He loves having fun, and he's very cool," says Durkin, his technical director since the early '90s. "If something goes wrong on the road, he just puts it aside. Everybody in the band has been with him at least 20 years. That says a lot."
So does Feliciano's list of accomplishments. He has released more than 50 albums in English and Spanish. He has won a total of eight Grammys, the most recent in 2008 for Señor Bachata, a collection of songs done in the popular Dominican style. And he's got a star on the Hollywood Walk of Fame. Along the way, he's also managed to make time for a family. He and his wife Susan have three children: Melissa, 21; Jonathan, 18; and Michael, 14.
With his schedule these days, Feliciano doesn't see as much of his family or his Connecticut home as he'd like, but he compensates by taking a little bit of home on the road with him, including his favorite cigars. He likes "to smoke them with a little snifter of Cognac," and says the allure of cigars for him remains constant: "What I like about cigars is that you don't have to smoke one every 20 minutes. Cigars are made to be smoked after dinner or on a nice sunny day. That's a good time to smoke a cigar." Then, getting up from the table, he heads to the pool area to do just that.
Gaspar González is a Miami-based wirter and filmmaker.
Comments
1 comment(s)
Jaime Montero — Mililani, HI, USA, — July 3, 2011 5:58am ET
---
You must be logged in to post a comment.
Log In If You're Already Registered At Cigar Aficionado Online