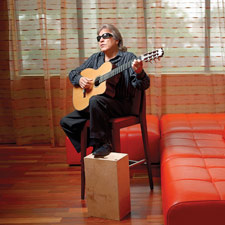 Light My Fire
In his nearly 50-year career, music legend José Feliciano has ignited controversy, crossover and more than his share of Cuban smokes.
(continued from page 1)
In 1964, Feliciano released his debut album on the label, The Voice and Guitar of José Feliciano. Featuring songs like the Ray Charles classic "I Got a Woman" and "Flight of the Bumblebee," the record showed off Feliciano's range as a musician, but didn't garner much popular attention. Two more albums followed, with similarly lackluster results. Then, in 1966, Feliciano made a trip to Argentina for a music festival. RCA executives there suggested he record in Spanish. Feliciano agreed and cut an album of romantic boleros, like the ones he had heard as a kid floating out of open doors on 103rd Street. Released in Latin America, the album caused a sensation. "It was like the windows burst open," says Feliciano. "I was like Elvis in those countries. I couldn't leave my hotel room."
Returning to the United States, the singer was determined to repeat the success of his Spanish-language album in English. At RCA, he was introduced to producer Rick Jarrard, who had previously worked with Jefferson Airplane. It was a memorable meeting. "I heard something drop on the floor," Jarrard will tell me a few days later, detailing that first encounter. "So I bent down to pick it up. My hand got within a few inches of it and I realized it was [a fake] eye looking at me. Then I heard José say, 'Have you seen my eye anywhere?' " The producer had fallen victim to one of Feliciano's practical jokes. More than 40 years later, Jarrard, speaking by phone from his home in Nashville, can barely finish the story without bursting out laughing.
The duo immediately got to work on an album of cover versions of contemporary songs, including The Doors' "Light My Fire." Feliciano had performed the song in concert, but he didn't think it made sense to release it on record since it had been a number-one hit less than a year earlier. Jarrard persisted. "We went in there with that very spare instrumentation and it just turned out incredible," says the producer.
The record company was not as enthusiastic about the song, or the album. "RCA hated it," remembers Jarrard. "They said, 'We wanted a rock album.' They wanted to erase it." The company ultimately relented and released the album with little fanfare. Much to the surprise of the suits at RCA, Feliciano's soulful, flamenco-tinged cover of "Light My Fire" made it all the way into the top ten on the pop charts in 1968. The song and album also netted him two Grammy Awards, for Best Contemporary Pop Vocal Performance by a Male and Best New Artist.
At 23, Feliciano was a recording star in two languages, traveling the world and enjoying the perks that come with success. One of them was cigars. "They were a sign of affluence to me," he says. "I think I started with Macanudos." Those quickly gave way to premium Cuban brands like Ramón Allones, La Flor de Cano, Cohiba and Montecristo.
"[Beginning] in the late '60s, I would buy Cuban cigars in England and other places I traveled," notes the singer. "Even today, the majority of my cigars are Cuban cigars. I get them from travel, from friends." Asked if he ever runs into trouble with U.S. Customs inspectors, Feliciano smiles. "The secret is to bring back one box [at a time]," he says, adding mischievously: "I always had a theory that if they asked me to give them up, I would crunch them up and say, 'OK, you can have them!' " (Thankfully, it's never come to that.)
Feliciano may not have gotten into hot water for bringing Cuban cigars into the country, but in 1968, he nevertheless managed to offend some patriotic types in the U.S. He did it in a rather unexpected way. The singer, a huge baseball fan, accepted an invitation to perform "The Star-Spangled Banner" before Game 5 of that year's World Series, a contest between the Detroit Tigers and the St. Louis Cardinals. That day, accompanied by his Seeing Eye dog Trudy, Feliciano walked out to left field in Tiger Stadium, propped his foot on a chair and began strumming his guitar and singing, his delivery soulful and heartfelt: "Oh, say, can you see..."
When he was finished, there was applause, but also murmurings in the stands. "I felt very good about the performance," recalls Feliciano, "until [NBC field announcer] Tony Kubek, during the game, told me, 'Do you know what you've just done? Veterans are throwing shoes at their television sets. The phones are lighting up. People are saying you should be deported.' " The comment still rankles him. "How do you deport an American?" he asks.
Looking back on it, Feliciano understands that "1968 was a turbulent year. People thought I was messing around with the anthem. I wasn't. I tried to give it some soul, some life." Still, he blames the controversy for hurting his career. After that, he says, some radio stations refused to play his music. (Despite the boycott, a recording of Feliciano's rendition of "The Star-Spangled Banner" went on to make the charts, encouraging other artists to offer their own nontraditional interpretations of the anthem. "Now," he says, "everybody does it any way they want.")
If the controversy put a damper on Feliciano's airplay, it certainly didn't keep him from becoming one of the first-and biggest-crossover Latin stars in show business. Today, myriad YouTube clips testify to just how ubiquitous a presence on the cultural scene he was by the 1970s. Look and you'll find him accompanying Andy Williams on "Autumn Leaves," dueting with Johnny Cash on the country legend's TV show, even jamming with Carl Perkins and Merle Travis on a version of "Foggy Mountain Breakdown." There was also the theme-lodged to this day in the memory banks of 40-something Gen Xers-to the hit television show "Chico and the Man," a song Feliciano not only sang, but wrote (and which he still uses to open his concerts). And, of course, there's "Feliz Navidad," the bilingual Christmas standard that has become as much a part of the season as eggnog and mistletoe. Talk about crossing over.
Comments
1 comment(s)
Jaime Montero — Mililani, HI, USA, — July 3, 2011 5:58am ET
---
You must be logged in to post a comment.
Log In If You're Already Registered At Cigar Aficionado Online