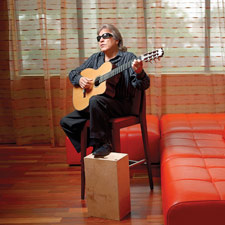 Light My Fire
In his nearly 50-year career, music legend José Feliciano has ignited controversy, crossover and more than his share of Cuban smokes.
As a small boy in the mountain town of Lares in Puerto Rico, José Feliciano would sneak out of his parents' house and wander into the fields, in search of the coffee berries he sucked like candy because, he said, they tasted sweet. Though born blind, young José was hard to rein in. He still is.
"Hey, are you making tortillas over there?" he shouts good-naturedly to a worker nailing a rug in place in the lobby restaurant of the Miami Airport Marriott. Feliciano has a well-earned reputation as a cutup. His musical director, Jim Durkin, and executive assistant, Grisselle Velázquez, sitting nearby, smile in a way that seems to say, That's just José.
When the waitress brings Feliciano his breakfast, two hard-boiled eggs with bacon, Velázquez takes over, removing the eggs from their shell, then mashing them into a bowl before mixing in the bacon. The preparation makes it easier for Feliciano to feed himself, because he doesn't have to hunt around for his food. Waiting for Velázquez to finish, Feliciano's attention drifts to the overhead speakers pumping electronic downbeats into the room; "iPod music," he calls it. It is not a compliment. Assured by Velázquez that the yolks are just the way he likes them-not quite cooked through-he digs in. Off to the side, a couple of guests, recognizing the short, slight figure with gray shoulder-length hair, stop to watch Feliciano eat. It'll happen a half-dozen more times before we're finished with breakfast.
It's hard to believe, but the Puerto Rican kid in the cool black shades who came out of the New York City folk scene to become an international recording star is now 64. Age, though, hasn't slowed him down. Feliciano is in Miami for a concert that will cap the annual Calle Ocho celebration, the Latin street party that draws hundreds of thousands of revelers to Little Havana. It's the last stop on his current concert tour. After this, he says, he'll start work on another album; Spanish or English, it doesn't matter. Mostly, he's just trying to enjoy himself and the latest chapter in his improbable journey.
"It started out as a hobby," Feliciano says of his musical interest, in between bites. "When I was three, my uncle played the cuatro [a small, four-stringed guitar] and I accompanied him on a tin can." Feliciano soon graduated to the harmonica and the accordion. By the time the family arrived in Spanish Harlem in 1950-one of thousands of Puerto Rican families who came to New York following World War II-five-year-old José was a blossoming musical prodigy, a development not lost on his parents. "My mother put me in a contest that was sponsored by Café Bustelo," he says, the accent of the New York barrio still evident. Feliciano played the accordion on a local radio broadcast and "won the votes of the people, so I got to play at the Puerto Rican Theater in the Bronx." He was only nine.
Around that same time, he took up the instrument that would become his trademark-the guitar. At first, he played along to the music on his radio, a mixture of Latin, blues, and early rock and roll. "In those days, radio was interesting," he says. "We listened to Frankie Lymon, Dion and the Belmonts, Ricky Nelson, Elvis." He also listened to Spanish classical guitar great Andrés Segovia.
Feliciano soaked it all in, teaching himself how to play almost every kind of music he heard coming out of the receiver. Slowly, a realization began to dawn on him. "I thought if I could play whatever was on the radio," he says, "the fate of other blind people wouldn't befall me. I didn't want to make baskets, I didn't want a newspaper stand, and I didn't want to be a blind beggar on the streets. Nothing against other blind people, but I didn't want that for me." It's one of the few times Feliciano, in talking about himself and his career, becomes deadly serious and the listener understands: It took a lot more than talent for him to make it. It took guts, too.
He quit school at 17, determined to become a professional musician. He naturally gravitated to Greenwich Village, then the hub of the folk scene. It was a time of reinvention. Robert Zimmerman had recently traveled to the Village from his native Minnesota, in search of the spirit of Woody Guthrie and a new life as Bob Dylan. Feliciano's route to the Village was shorter, only a subway ride, but his reinvention no less dramatic. In addition to playing the guitar, he had started singing. "My influences were people like Ray Charles, Sam Cooke, The Drifters," he says. "I wanted to sing like the African-American singers. You could feel their pain. My pain was poverty."
Armed with his guitar and a soul-inflected if somewhat nasally voice-"until I had a tonsillectomy at 21, and then my voice improved 100 percent"-Feliciano played coffeehouses in the Village, before embarking on a tour of the national folk-club circuit. From the beginning, his act was different. "I played folk music, things like [the Dylan composition] 'Don't Think Twice, It's All Right,' " he remembers, "but I also played Spanish music and instrumentals, which a lot of folk people didn't do, because they only played three chords."
He eventually landed back in New York, at Gerde's Folk City, the famed West Fourth Street venue that had helped launch Dylan's career only a few years before. Though Feliciano couldn't have known it at the time, the stint at Gerde's would do the same for him. The blind youngster with the virtuoso guitar skills instantly drew a crowd. One night, RCA Records exec Jack Somer, who had come to Gerde's to check out another act, heard Feliciano, and offered him a contract.
Comments
1 comment(s)
Jaime Montero — Mililani, HI, USA, — July 3, 2011 5:58am ET
---
You must be logged in to post a comment.
Log In If You're Already Registered At Cigar Aficionado Online