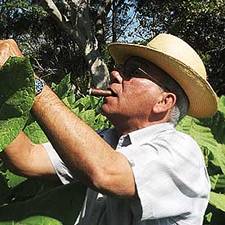 Photo by Richard Leonardi
José "Pepin" Garcia recently opened a new cigar factory in Nicaragua.
Pepin's New Look
America's hottest cigarmaker, José "Pepin" Garcia, has a grand new factory in Nicaragua.
(continued from page 3)
In 2003, the Garcias opened El Rey de Los Habanos on Calle Ocho in Miami, by partnering with Eduardo Fernandez, the owner of Nicaraguan tobacco giant Aganorsa, cigar company Tropical Tobacco and the Casa Fernandez brand. Fernandez backed them financially. "I put in the money, he put in the labor. That worked really fine," says Fernandez. "Everybody wanted Pepin." Fernandez also was an investor in Garcia's first Nicaraguan factory. "And then all of a sudden he built another factory that's all his," Fernandez says, referring to My Father Cigars.
Fernandez has praise for Pepin. "He gained a lot of knowledge and took it all in-he's a special individual in that sense," he says. But it's clear he doesn't enjoy the subject.
Fernandez says he owns half of El Rey de Los Habanos, the original venture, which still operates today in Miami, making boutique cigars. The Garcias confirm he is an investor, but won't discuss details. They clearly don't enjoy speaking about Fernandez any more than he enjoys speaking about them. "We prefer to not talk anything about Eduardo Fernandez," says Janny Garcia. "In my consideration, it's not necessary."
Rumors persist of another financial backer the Garcias had in this newest venture, one who sold back a portion of their tobacco inventory when he wanted to recover some of his investment. (On a visit in December, My Father Cigars had tobacco in stock.) The Garcias have denied these rumors, and say they alone are the sole owners of My Father Cigars. "It's 100 percent owned by my family. There are no partners for My Father Cigars and we have never had one," says Janny Garcia. "Since its creation, the company has been owned by no one else than the Garcia family." Of Pepin's ownership of My Father Cigars, Fernandez says "That's all his."
Pepin Garcia's journey out of Cuba has taken him to places he never imagined. "We came from Cuba full of dreams, but we were not able at that time to figure out what will be happening in the future. It was just a simple start," says the elder Garcia. "We have worked very hard and we have done the best we can. What you see today is the result.
"The love and consideration of the consumers is what make us proud. When any of us, including the rollers, go to an event and we can feel people like to see our job, give us their love, hugs and blessing, we feel really happy. I feel so proud of my family, their support and commitment following my dream, learning how to make cigars the same way I make them. "
The man's desire to improve despite all his success achieved is clear in his words. "This still is just the beginning for us," he says. "We do not consider ourselves a big company and that we have given all that we can. We will continue working even harder to give, everyday, more and more."
Comments
1 comment(s)
Ed Burke — Hawthorne, NJ, USA, — June 19, 2011 9:38pm ET
---
You must be logged in to post a comment.
Log In If You're Already Registered At Cigar Aficionado Online