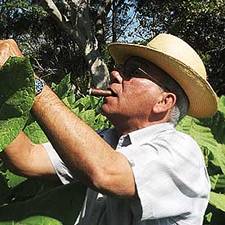 Photo by Richard Leonardi
José "Pepin" Garcia recently opened a new cigar factory in Nicaragua.
Pepin's New Look
America's hottest cigarmaker, José "Pepin" Garcia, has a grand new factory in Nicaragua.
(continued from page 2)
On a walking tour, visitors can see the natural flow through the complex. Cured tobacco leaf comes in on the left, going into Tabacalera del Centro. There it is fermented in pilónes, huge bulks of tobacco put together by hand, where pressure and moisture turn raw, young leaf into something rich and smokable. The fermented leaf is then put into bales and aged, until it's finally ready for use. Then the ready tobacco moves next door into My Father Cigars, where it is made into blends, then given to the cigar workers to roll into cigars. Finished cigars go into the wooden boxes that are constructed on site, then are shipped out the door.
Taking vertical integration to the next level, the Garcias began growing their own tobacco in 2006 on a farm near Estelí called La Estrella, or The Star, and they now have a second Nicaraguan farm. The first cigars using their own tobacco was the My Father blend, which has La Estrella tobacco on the inside. Johnson's L'Espirit de Verite has La Estrella wrapper leaf. Ashton's new San Cristobal Selección del Sol has sun-grown wrapper leaf from the same farm.
When he worked in Cuba, Pepin Garcia never dreamed he would admire tobacco grown anywhere else. "I thought only in Cuba could you make good cigars," he said in 2007. "Estelí is similar to Las Villas, Jalapa is like Pinar del Río, Condega like Habana. The combination? Cubano!"
Garcia and his family have also become quite fond of Habano wrapper grown in Ecuador by Oliva Tobacco Co. of Tampa, Florida. It grows at the foothills of the Andes mountains, and it's the wrapper leaf used on the cigar that the factory is named for, the My Father brand.
Pepin Garcia is no stranger to large cigar factories. Born October 24, 1950 in Báez, a small town in the Villa Clara province of central Cuba, east of Havana, he's been making cigars since he was 11. While his starting role came in a tiny cigar factory run by his uncle, he later worked at the Félix Rodriguez cigar factory in Báez, rolling big Cuban brands such as Montecristo, Cohiba, Romeo y Julieta, Quai d'Orsay and Ramon Allones.
"The factory where I worked in Báez is considered one of the largest in Cuba," says Garcia, "but, doubtless, this is the largest one I have ever worked in."
Just as Smokin' Joe Frazier was born to be a boxer, Pepin was meant to roll cigars. Watching him work brings a smile to a cigar smoker's face: he can turn tobacco leaves into various wild shapes with ease. In Cuba, Garcia instructed other rollers how to work, an experience that would become invaluable when he began making cigars on his own. The family came to the United States between 1997 and 2002. Janny was the first to arrive in the United States, coming in 1997. Pepin and Jaime came in 2002, emigrating first to Nicaragua, then to Mexico, where they crossed the U.S. border and were welcomed into the country. In 2003, they opened El Rey de Los Habanos in Miami.
That was a modest operation, built upon making cigars under contract. Garcia's early clients included cigar retailers, small cigar brands such as Padilla, and a new brand in 2003 with the nigh-unpronounceable name Tatuaje.
Tatuajes made their debut at the 2003 cigar industry trade show. High ratings soon followed. Tatuaje and the Garcias became household names, and Tatuaje became one of the industry's most in-demand brands. It was named the hottest cigar brand in America in a 2009 Cigar Insider survey of top U.S. cigar shops.
It is hardly surprising that such success would bring a modicum of controversy. The Garcias' expansion into Nicaragua and refocusing of the business on certain clients as well as house brands meant an end to relationships with some old clients as well as business partners, which engendered some bruised feelings.
Comments
1 comment(s)
Ed Burke — Hawthorne, NJ, USA, — June 19, 2011 9:38pm ET
---
You must be logged in to post a comment.
Log In If You're Already Registered At Cigar Aficionado Online