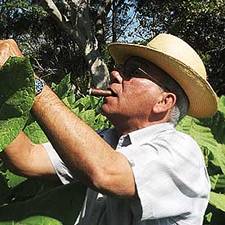 Photo by Richard Leonardi
José "Pepin" Garcia recently opened a new cigar factory in Nicaragua.
Pepin's New Look
America's hottest cigarmaker, José "Pepin" Garcia, has a grand new factory in Nicaragua.
(continued from page 1)
"We have enough space here," says Janny, in a typical understatement as she moves through the cavernous facility. Janny, an attractive 31-year-old with dark hair and eyes, is one of the more influential women executives in the premium cigar business, running the details of the operation as her father and brother make the cigar blends.
"Everybody triple caps the cigar here, every bunch is entubado," says Jaime Garcia. Entubado refers to a painstaking bunching method where a cigar buncher rolls each filler leaf into a sort of straw, or tube, before wrapping it within the binder leaves to make the bunch. Making cigars by entubado allows a cigarmaker to put in more tobacco leaves without worrying about draw problems. The triple cap is a Cuban-style cap, also called a mounted head. The name comes from the three lines that appear around the shoulder of such cigars, beneath the head. Making a triple cap takes a considerable amount of time. Most non-Cuban cigar manufacturers eschew this method for the quicker form of rounded cap, which has one seam.
Every Garcia cigar, whether it's made here in Nicaragua or at their original Miami facility, is also rolled with two binder leaves to add complexity. (New hires start off making Cuban sandwiches, the industry term for mixed filler cigars, those made with a blend of short- and long-filler tobacco. The cigars are cheaper, so mistakes by newbies are less costly. A little less than 10 percent of the factory's production is mixed-fill smokes, brands such as Tabacos Baez SF and Tatuaje Serie P.)
The cigars made at My Father Cigars display the same attention-grabbing style the Garcias became known for in Miami, except here in Nicaragua the labor is divided between buncher and roller.
"The only difference is they have pairs here," says Johnson. "In Miami, it's one person on the whole cigar."
When Garcia expanded into Nicaragua, some worried that it would be impossible to replicate his Miami success. He was moving from a small, controlled environment where he supervised only a handful of workers into a new country, using a factory that rivaled nearly every other in Nicaragua in terms of size. The results so far have been impressive.
"We are continuing rolling cigars in the same style as of the beginning, the Cuban style. It does not differ at all from the El Rey de los Habanos [his original cigar factory, in Miami] style," says Pepin. "For us, the quality is the most important goal to pursue. You can get proof of that in the ratings we have received in the cigars made in Nicaragua."
The My Father cigar factory began rolling test cigars in June 2009 and formally opened its doors on August 29. The complex was built in stages. The first construction phase was the box factory. "They needed boxes, so they built the box factory first," says Johnson. Next came the building on the left, called Tabacalera del Centro, which is for pre-industry, where tobacco is prepared so it can be made into cigars. The Garcias used this space to roll cigars while the main rolling building was being completed. It took one year and nine months, says Jaime, to construct. Jaime says it's the largest cigar factory in the country, save for the massive Drew Estate facility.
The move into a sparkling new facility in Nicaragua has given the Garcias something more precious than space-the new setup allows them a level of vertical integration they simply did not have before, growing their own tobacco, including wrapper, and making their own boxes. They control the process from seed to box.
"It's very impressive, to say the least," says Sathya Levin, vice president of Ashton Distributors. "It's very centralized: you don't see a lot of operations that do everything in one place, the pre-industry, the cigar rolling, the box factory. It's all right there. A lot of thought went into the design process, and it shows. It gives them the ability to grow their brands, as well as our brands. Now there's a lot of room for that."
Comments
1 comment(s)
Ed Burke — Hawthorne, NJ, USA, — June 19, 2011 9:38pm ET
---
You must be logged in to post a comment.
Log In If You're Already Registered At Cigar Aficionado Online