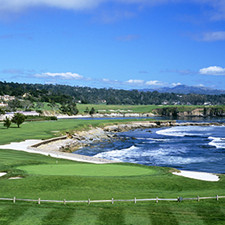 Joann Dost Golf/ Golf Lifestyles, Inc.
The 18th hole at Pebble Beach.
America's Golf Mecca
Pebble Beach will host the U.S. Open for the fifth time in June, a testament to one of the greatest settings for the country's national championship
(continued from page 5)
Despite the changes, the experience hasn't changed and never will. Pebble Beach is as much a journey as it is a golf course. This summer, another player will make the long walk to glory in the most glorious setting in championship golf.
"You always want to go back to Pebble Beach," says Watson, "We all see its beauty, but sometimes lose track of the fact that it is a wonderful course. It's short by today's standards, but when you make those tiny greens hard and fast and get the rough up, and you get some weather, which you usually do, it's as good a test as any. It's a great place to play an Open. It's a great place to play, period."
Jeff Williams is a Cigar Aficionado contributing editor.
You must be logged in to post a comment.
Log In If You're Already Registered At Cigar Aficionado Online