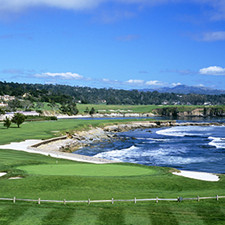 Joann Dost Golf/ Golf Lifestyles, Inc.
The 18th hole at Pebble Beach.
America's Golf Mecca
Pebble Beach will host the U.S. Open for the fifth time in June, a testament to one of the greatest settings for the country's national championship
(continued from page 4)
"So many times as a kid you sink a putt or hit a shot to win the U.S. Open," says Kite. "Now I was going to do it. I would have taken a U.S. Open anywhere, but to do it at Pebble just made it really special."
Tiger Woods, 2000
During a practice round for the Open, NBC commentator Johnny Miller asked Mark O'Meara, friend and mentor of Tiger Woods, how Woods was playing. O'Meara says "I told him, 'Johnny I've played the tour for 20 years now and Tiger is the best player I have ever seen. He doesn't have the best record yet, but he's already the greatest player of all time.' "
What O'Meara didn't know was that Woods would have the greatest U.S. Open of all time, the greatest major championship of all time, the greatest single tournament of all time. Other than that he shot four nice rounds.
Woods shot 65 the first round and never looked back. His 69 in the second round was the best round of the day. His 71 in the third round was tied for best round of the day despite a triple bogey on the third hole. His 66 in the final round was a coronation march. He won the championship by an incomprehensible 15 strokes over Ernie Els and Miguel Angel Jimenez. His total was 272, 12 strokes under par, the first time a player had ever finished in double digits under par in an Open. If there had been any question (he had won 14 of his last 25 tournaments coming in, so there were few questions) that Woods was in a league of his own, it had been answered by the most dominating display of golf in history.
Two shots Woods hit that week stick out. He had to complete his second round early Saturday morning. On the 18th he hit a huge hook into the Pacific and let out such an explosion of cuss words that it turned the ocean bluer.
He made putt after putt that week, but one on the 16th in the final round had special meaning. He was faced with a 15-footer to save par, and he could have 10-putted it and it would not have made any difference. But he stalked that putt as hard as any that week and when he rolled it in there was an immense look of satisfaction. His goal of winning the Open virtually guaranteed when he teed off the last day, he wanted to play the final round bogey-free.
Els was his playing partner that day. "When he's on, we don't have much of a chance," said Els.
Woods went on to win the British Open, the PGA Championship and the Masters the following April. He had won four majors in a row, and although not in the same year, they became known as the Tiger Slam. He had slammed on the accelerator at Pebble Beach and left the field choking on his fumes.
Epilogue
A series of changes since the 2000 Open, under the auspices of Arnold Palmer's design company, has lengthened the course to 7,040 yards, the first time Pebble Beach will play at longer than 7,000 yards. Four greens were rebuilt and enlarged slightly, 16 bunkers have been rebuilt or added. There are a few new tees and a few new trees. Perhaps most important, fairways along the coastal holes have been shifted closer to the cliffs.
"The length we've added to 9, 10 and 13 probably means maybe a stroke more through those holes," says Harper. "With the fairways shifted toward the coast and with little rough on that side, the players will have to be more conscious of the Pacific Ocean. Those tee shots will be much more demanding.
You must be logged in to post a comment.
Log In If You're Already Registered At Cigar Aficionado Online