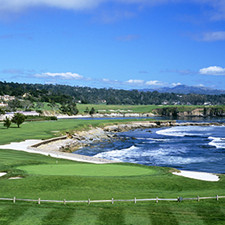 Joann Dost Golf/ Golf Lifestyles, Inc.
The 18th hole at Pebble Beach.
America's Golf Mecca
Pebble Beach will host the U.S. Open for the fifth time in June, a testament to one of the greatest settings for the country's national championship
Tom Watson was center stage in golf's most beautiful theater. Here he was on the 17th hole of the Pebble Beach Golf Links-a course a he treasured, a course he stole away to as a Stanford University student, a course he knew defined great players-with the 1982 U.S. Open championship within his reach.
It was a gray Sunday at Pebble Beach, but the atmosphere was electric. Watson was tied for the lead with the mighty Jack Nicklaus with two holes to play. Nicklaus was sitting in the scorer's tent, finishing with a 69, his fate in Watson's hands.
Watson struck his 2-iron shot to the long par 3 17th, trying to find any piece of the green's tiny left side. When the ball finished in the gnarly rough off the left side of the green, leaving Watson a chip he would do well to get 10 feet from the hole, Nicklaus was feeling pretty good about his chances.
Watson was feeling otherwise.
After assessing the shot, Watson chose a sand wedge. As caddy Bruce Edwards handed it to him, he said: "Get it close."
To which Watson replied: "I'm not going to get it close, I'm going to make it."
And he did, for a birdie.
With one of the most dramatic shots in golf history Watson won his only U.S. Open championship. The shot and the title were made immeasurably grander by his defeat of the legendary Nicklaus and by the grandeur of the setting. To win it at Pebble Beach, a course that Nicklaus himself cherished and championed, was to win at the very pinnacle of golf in America.
Now the Open returns to Pebble Beach this June for the fifth time since it was first held there in 1972, and if it is anything at all like the four that proceeded, it will be among the most memorable of championships.
From Nicklaus's methodical win in 1972 to Watson's chip-in win to Tom Kite's survival-of-the fittest win in 1992 to Tiger Woods's dominating win in 2000, the Opens at Pebble Beach have certainly been the most dramatic of the television age and rank among the best of all time.
You must be logged in to post a comment.
Log In If You're Already Registered At Cigar Aficionado Online