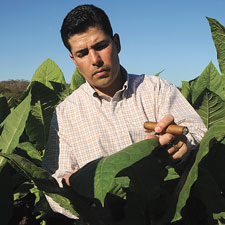 Jose Oliva examines a tobacco leaf.
Nicaragua's Next Giant
With its penchant for innovative smokes and a sizable supply of tobacco leaf, Oliva Cigar Co. has doubled production since 2006.
(continued from page 3)
José Oliva says the Serie V is "on eternal back order." Out of the company's 350 rollers in Nicaragua, only 22 make that cigar, and unlike the others they are paid by the day, not by how many cigars they roll, allowing them to concentrate more on each cigar. "Those 22 guys get paid by salary, not production," says José Oliva. "We feel it's our foundation cigar." 
Like other Olivas, it also comes at a reasonable price. Since Oliva came to the market during a very difficult time, the company had to be conservative with its pricing, and while prices have risen over the years, the Olivas are still known for their affordable pricing. The Serie V starts at only $5 a smoke and tops out at $9 for the more limited maduro version. 
Oliva sells its cigars through an 18-person sales force, some of whom were recruited from inside cigar shops. They were cigar lovers first, salesmen second. Dave Wagner, the national sales manager for the company, was a cigar enthusiast smoking at the International Cigar Factory Outlet in South Norwalk, Connecticut, when he began working for Oliva, leaving a job at Purdue Pharma. "Dave took an enormous salary cut to come work for us," says Oliva. 
The Olivas have been more aggressive than many American cigar companies in moving its sales beyond the borders of the United States. Five percent of its sales come from outside the United States, and Oliva cigars are sold in 18 countries. José Oliva has looked at the expansion as a long-term goal, even if in some instances it doesn't make money. "We don't see every global market as a profit opportunity. In Holland, non-Cuban, we're probably No. 1. In Switzerland,  No. 2, in London, No. 2 or No. 3. Our goal is to compete at a global level, and we insist on being a global brand." He says that it is in Europe where the cigars go up against Cubans on their own playing field. "It's a huge source of pride for us," he says.
The sun has set. Oliva reaches back into his travel humidor and takes out a pair of well-made pyramids with very dark wrappers, Oliva Serie V Maduros, one of the company's rarest cigars. He lights his smoke, and the conversation continues over the last drops of Caymus Special Selection wine from the Napa Valley.
"For a long time, people said 'a fine cigar has to be Cuban, a fine wine has to be French.' Wine does not have to come from the most noble vines in France to be a great wine," he says, taking a contemplative puff on his smoke. He reflects, thinking upon how his company has managed to thrive while combining the tenets of tradition and experimenting with the thrill of modern trends. "Some change is not necessarily for the best," he says, "but some change is good."
You must be logged in to post a comment.
Log In If You're Already Registered At Cigar Aficionado Online