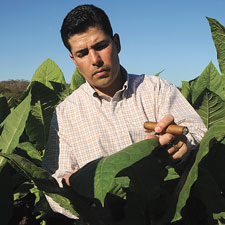 Jose Oliva examines a tobacco leaf.
Nicaragua's Next Giant
With its penchant for innovative smokes and a sizable supply of tobacco leaf, Oliva Cigar Co. has doubled production since 2006.
(continued from page 2)
One of the hotter Internet topics has been NUbs. These ultra-fat, ultra-short cigars (most are four inches long with ring gauges of 60 or more) are the brainchild of Sam Leccia, a former liquor-industry executive and a passionate cigar smoker who came up with the idea of getting to the sweet spot in a cigar quicker. He rolled the concept NUb in his garage and brought it to the Olivas, for whom he worked at the time as a sales representative. 
At first, The Olivas were leery, worried that the NUb would be conceived as gimmicky and that it wouldn't resonate with a large audience. "A lot of people said it would be a fad. The feedback was not positive at first. I thought it would be absolutely relegated to boutique status among a small group of people. But there was fertile ground there," says Oliva. "The smoker embraced it from the start. There's sincerity in it. The proof is in the imitations." 
And the sales. At Cigar Aficionado's Big Smoke Las Vegas in November, Leccia spoke about the success of NUbs, which he called a $10 million brand. Oliva has plans to expand the line-the sawed-off smokes are made in four wrapper varieties, and more versions (including one that will be rolled in Miami) are in the works.  
"I take a tremendous amount of pride in NUb....it's a real and permanent part of this business," says Oliva, although his embrace of the cigar is still not a hearty bear hug. "It doesn't define our company and it doesn't define our business." Other cigar companies have come out with similar shapes. "It's both flattering and it legitimizes the segment. It says our risk was a correct risk." 
Last year Oliva came out with another nontraditional cigar with Leccia called Cain, which is made with unusually large amounts of ligero, the strongest type of filler. The goal, says Oliva, was to do "something that wasn't done before." The initial creative stage of Cain included prototypes that used only ligero, but they were abandoned. "We rolled a 100 percent ligero cigar-it was like drinking 151 rum. It can never be 100 percent-you need combustion."  
The final product clocks in at a healthy 82 percent ligero. That proportion, which is based on the tobacco used to make 1,000 cigars, is broken down in detail on each box, which reveals the percentage of ligero that comes from Estelí, from Jalapa and from Condega. It's a sign that Oliva understands the changes in the marketplace-this is an age where cigar smokers are thirsty for ever more information about the cigars they smoke. 
Cigars such as Cain and NUb are powering Oliva along. "The most dynamic [part of our business] is this arm, more cutting-edge cigars, less traditional. It's allowed us to be in an area we're not always comfortable with," says Oliva. "It's very exciting. It's also taught us a lot about the demographic of a smoker. If you go back seven or eight years, some of the blends you see now wouldn't have been accepted." 
Oliva still does a considerable business making cigars under contract, both as sizeable brands made for other cigar companies and via private-label smokes made for cigar shops. "Oliva makes two lines of cigars for us, the Savinelli Liga Especial and the Savinelli Special Selection 2005," says Ruben Ysidron, chief operating officer of Savinelli Inc. "Carlos and Gilbert are two of the nicest people I have worked with in my 40-year career in the industry. Their father Gilbert Sr. is the most knowledgeable tobacco grower I have met, in addition to being a very humble, down-to-earth person. Our relationship is more one of family than business. Their production standards are excellent and their production staff have many years of experience. I can only say that working with the Olivas has been a delight."  
While Oliva has done well with the flashy NUb and made a fine business from its contract brands, the company's greatest critical success has come via a very traditional smoke-the Oliva Serie V Liga Especial.  
The cigar first hit the market in 2006, and it has appeared on Cigar Aficionado's Top 25 list for three consecutive years, twice in the top five. The cigar is stronger than previous Olivas, while maintaining the signature balance and complexity that has endeared the company to cigar aficionados. "Our cigars are best characterized as full flavored but smooth, truly Nicaraguan with Cuban heritage," says Gilberto Sr. "Nicaraguan tobacco is rich and flavorful with strength to spare." 
You must be logged in to post a comment.
Log In If You're Already Registered At Cigar Aficionado Online