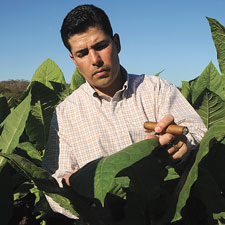 Jose Oliva examines a tobacco leaf.
Nicaragua's Next Giant
With its penchant for innovative smokes and a sizable supply of tobacco leaf, Oliva Cigar Co. has doubled production since 2006.
(continued from page 1)
Gilberto Oliva traveled the Caribbean and Central America, looking for tobacco that could rival that which he left behind in Cuba. He grew in various countries, and later moved into cigarmaking, working for Nestor Plasencia Sr. in Honduras. In 1995, Oliva and his son Gilberto Jr. created a cigar within Plasencia's factory. They named it Gilberto Oliva and crafted it with a blend typical of the time: Dominican and Nicaraguan fillers, Dominican binder and Ecuador Connecticut-seed wrapper. A year later, they had saved enough to expand, and they opened their own factory in Nicaragua, and shortened the brand name to Oliva. 
While cigars of all types had sold like wildfire in 1995 and 1996, by 1997 the industry giants had caught up with back orders, leaving the market with far too many cigars. Newcomers such as Oliva faced hard times. Money became scarce. The Olivas were not fond of taking on debt, so they turned to their patriarch's inventory of Nicaraguan tobacco and began making cigars entirely from Nicaraguan leaves, to stretch their dollars. The family never again imported filler tobacco. 
"For one-and-a-half years, he carried us with his inventory of tobacco," says José Oliva. "Every year my father continued to grow tobacco and put it away. It allowed us to win people over through the consistency of the cigars we were producing. Right from the beginning, the commitment was always more tobacco." 
The Olivas may have been forced to make Nicaraguan puros for financial reasons, but that change proved to be a blessing. It pushed the family closer to self-sufficiency and gave it a product that was embraced by the cigar cognoscenti in the United States. The world was falling in love with Nicaraguan tobacco, and Oliva had it to spare. 
"I have grown tobacco in Cuba, Mexico, Honduras, Panama and even the Philippines," says Gilberto Sr., at 78, a rail-thin man with small glasses and a slim mustache. Nicaragua charmed him the most, by far. "Nothing compares to Cuba like Nicaragua," he says. "Northern Nicaragua enjoys all the natural blessings for great Habano." 
Oliva is a family business through and through, run by Gilberto Sr. and his children. "My goal was to partner with my children to make something they could carry on with pride," says the patriarch. Each handles a different part of the business. The father handles tobacco growing and processing; Gilberto Jr., 49, is head of leaf growing and company blending; Carlos, 45, runs the cigar factories; Jeannie Oliva-Suarez, 38, runs operations in Miami Lakes; and José handles sales.  
José is also the face of the company, and grooming him for that position was a family collaboration. While his father traveled the globe-growing tobacco is a business requiring many days, weeks and months spent in the field-his older brothers helped raise him. 
"Their burden was being able to make sure I could go to school," says José. "To some degree, my brothers were fathers to me." He was expected to excel at his studies. If he didn't, there was trouble. "When I got my report card," he says, "the day of reckoning was with my brothers." 
José Oliva has turned that sibling pressure of his early days to a personal resolve to contribute to the family business as an entity that is being built to last for generations. "You're not a star in the show, you're a leg in the race-and I take a lot of pride in how I run that leg," he says.
The epitome of the modern cigar executive, he spends quite a bit of time monitoring the opinions of cigar smokers via his computer. "The first two hours of the day I spend on the Internet, seeing what's going on, what's being said," he says. 
You must be logged in to post a comment.
Log In If You're Already Registered At Cigar Aficionado Online