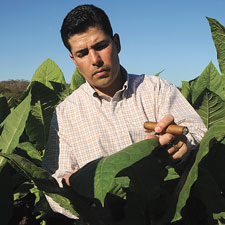 Jose Oliva examines a tobacco leaf.
Nicaragua's Next Giant
With its penchant for innovative smokes and a sizable supply of tobacco leaf, Oliva Cigar Co. has doubled production since 2006.
(continued from page 1)
"For a long time, people said 'a fine cigar has to be Cuban, a fine wine has to be French.' Wine does not have to come from the most noble vines in France to be a great wine," he says, taking a contemplative puff on his smoke. He reflects, thinking upon how his company has managed to thrive while combining the tenets of tradition and experimenting with the thrill of modern trends. "Some change is not necessarily for the best," he says, "but some change is good."
You must be logged in to post a comment.
Log In If You're Already Registered At Cigar Aficionado Online