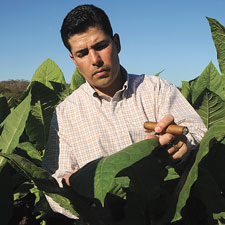 Jose Oliva examines a tobacco leaf.
Nicaragua's Next Giant
With its penchant for innovative smokes and a sizable supply of tobacco leaf, Oliva Cigar Co. has doubled production since 2006.
José Oliva takes an outside seat at Smith & Wollensky steakhouse on a sunny winter afternoon in Miami Beach. A cat prowls the rocks that separate the tables from the water, on the hunt for lizards. Oliva, a 37-year-old with jet-black hair and a solid frame, opens his leather travel humidor, takes out a cigar bearing his family's name, clips the end and lights it, basking in the comfortable breeze.
"Inventory is the only measure of a serious cigarmaker-show me your tobacco," says the vice president of Oliva Cigar Co. between puffs on what is one of 13 million cigars his company made last year.
Oliva Cigar sits on a considerable inventory of tobacco, and those stocks have allowed it to double its production in just four years. While Oliva Cigar has been making cigars for only 15 years, it has been quite the ride. After struggling out of the gate, Olivas now enjoy a combination of consumer and critical acceptance. Sales are booming among a wide variety of segments, from inexpensive bundle cigars to hip and innovative smokes such as the squat NUb to the premium and robust Oliva Serie V Liga Especial. The company has had a cigar in Cigar Aficionado's Top 25 list for five consecutive years, three of them in the top 10, two of which made the top five. The current year's No. 5 cigar, the Oliva Serie V Belicoso, rated 93 points. The company believes that it's one of the six largest makers of premium cigars for the U.S. market. 
"We've grown," says Oliva. "I think we have to be the fastest growing company in the business over the last three years." 
Oliva Cigar (not to be confused with Tampa's Oliva Tobacco Co., which grows and brokers tobacco) makes its cigars in two countries. All of its high-end products are rolled in Estelí, Nicaragua, in a 60,000-square-foot facility. Bundle cigars are assembled in Danlí, Honduras, then shipped to Nicaragua before they are exported. The Danlí operation is a fraction of the size of the Nicaragua factory: it makes some 20,000 cigars a day, compared with 50,000 cigars a day in Nicaragua. The new Honduras factory was built to lessen the company's dependence on production in Nicaragua after Daniel Ortega was elected president in January 2007. It replaced a shuttered facility in Jalapa, Nicaragua.
The company grows all of its filler tobaccos, focusing on those grown from Habano seed. The only tobacco leaf it buys from outside vendors is Connecticut-seed wrappers grown in Ecuador, some of which is used as binder. "I believe we have the largest inventory of Habano filler," says Oliva. While that is a claim that might be disputed by other companies in the industry, he speaks with passion about the importance of inventory. 
"Are you really in this game? If you are, you have inventory-scary inventory. Cigarmaking and craftsmanship are important, but there is no substitute for tobacco inventory."  
The Oliva Cigar Co. story began in the tobacco fields of Cuba in the late 1800s, when Melanio Oliva started growing cigar tobacco. His son Hipolito took up the family business, and his son Gilberto was the first to move beyond his family's fields, becoming a tobacco broker. He focused on leaf that many growers ignored, libre de pie, the leaves that grow closest to the ground and are known as sand leaf.  
Gilberto Oliva continued to operate even after the Cuban revolution, as the government concentrated on nationalizing larger firms and left smaller ones alone. But by 1964, smaller and smaller businesses were being affected. He knew he had to leave. He left Cuba for Spain, then went to Nicaragua.
By 1973, Oliva had three children, and a fourth was on the way. He wanted the new child to be born an American. So he had his seven-and-a-half-months pregnant wife, Carmen, fly to Miami on January 5. She stayed overnight in the airport with her four children, then flew the next day to Elizabeth, New Jersey. "I was born that evening," says José Oliva. "My father insisted that I be born in the United States." 
You must be logged in to post a comment.
Log In If You're Already Registered At Cigar Aficionado Online