Cigar Aficionado Magazine Archives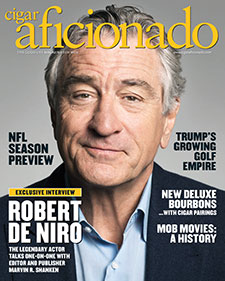 September/October 2015:
Robert De Niro
The visceral rage of boxer Jake LaMotta. The calculated calm of young Vito Corleone. The bombast of gangster Al Capone. The shrewd, dry humor of father-in-law Jack Byrnes. Each of these characters and so many more have been brought to life memorably by Robert De Niro.
In a comprehensive interview with Cigar Aficionado editor and publisher Marvin R. Shanken, Robert De Niro reveals a range that goes even beyond his on-screen flexibility. Plus, we look at the man through his greatest roles, his business success and his contributions to the cinematic wielding of cigars. Additionally, we pay homage to mobsters in the movies, go inside Donald Trump's golf empire and explore Bourbon's big-time revival. And as always, we rate a plethora of premium cigars across six sizes: Churchill, corona gorda, figurado, lonsdale, panetela, and robusto.
---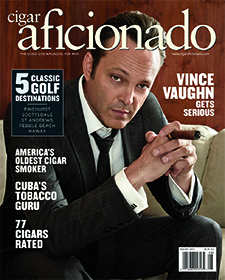 July/August 2015:
Vince Vaughn
We know him mainly as the charming male lead in a series of megahit comedies like Wedding Crashers, but Vince Vaughn is dusting off his serious side for "True Detective." Plus, we take a look at a time when dressing for the game was a major component of golf and pay homage to Richard Overton, the 109-year-old cigar smoking veteran. Additionally, we interview Cuba tobacco guru Eumelio Espino and take you on a tour of the finest destinations in golf. Also, we rate a total of 77 cigars in six categories: Churchill, corona gorda, figurado, miscellaneous, petit corona and robusto.
---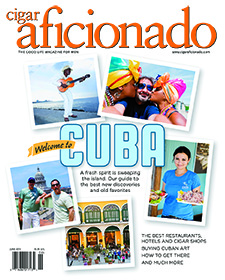 May/June 2015:
Welcome to Cuba
As Cuban-American relations continue to thaw, tourism to Cuba is quickly becoming an exciting prospect for both nations. The June issue of Cigar Aficionado sets out to bring you the ultimate Cuba travel guide. We take you inside the vastly expanding fine-dining scene in Havana; highlight the unique blend of old-world charm and new-world conveniences of the city's newest hotels; celebrate the rich culture of Cuban music and art; explore Cuba's emerging cocktail culture and nightlife; and, of course, provide a comprehensive guide to all things cigars, including what to smoke, where to buy them, and the once-in-a-lifetime experience of touring a Cuban cigar factory. Plus, a feature on the emergence of hybrid tobacco seeds. All this and more, ON NEWSSTANDS NOW!
---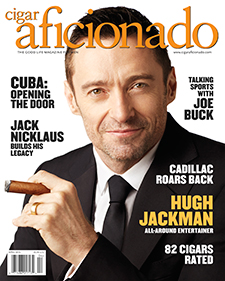 March/April 2015:
Hugh Jackman
Hugh Jackman can do it all. Play a superhero? Check. Sing? Check. Host the Oscars? Check. Jackman discusses his motivation and his love of a great cigar in the April issue of Cigar Aficionado. Plus, we look at what it would take to normalize relations with Cuba; speak with retired golfing legend Jack Nicklaus about his course designs; discover why businessmen are attracted to high-stakes poker. Also we interview sportscaster Joe Buck and crunch all the data from our previous year's cigar tastings.
---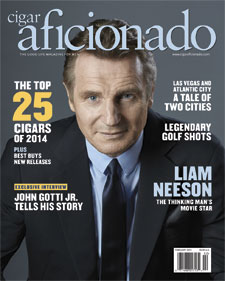 January/February 2015:
Liam Neeson
Actor Liam Neeson is the thinking man's movie star, having taken on roles and personas that range from the serious to the action hero. The February issue of Cigar Aficionado tells the story of Neeson's career and his thoughts on acting. Plus, an exclusive interview with former mafia scion John Gotti Jr.; the resurgence of Nat Sherman cigars; and a comparison of thriving Las Vegas to waning Atlantic City.
---
Previous
Next