Cigar Aficionado Magazine Archives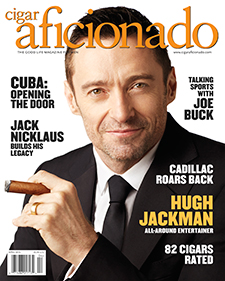 March/April 2015:
Hugh Jackman
Hugh Jackman can do it all. Play a superhero? Check. Sing? Check. Host the Oscars? Check. Jackman discusses his motivation and his love of a great cigar in the April issue of Cigar Aficionado. Plus, we look at what it would take to normalize relations with Cuba; speak with retired golfing legend Jack Nicklaus about his course designs; discover why businessmen are attracted to high-stakes poker. Also we interview sportscaster Joe Buck and crunch all the data from our previous year's cigar tastings. All this and more, ON NEWSSTANDS NOW!
---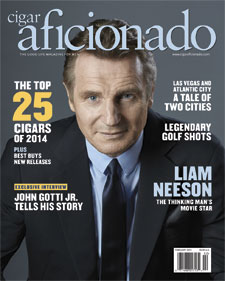 January/February 2015:
Liam Neeson
Actor Liam Neeson is the thinking man's movie star, having taken on roles and personas that range from the serious to the action hero. The February issue of Cigar Aficionado tells the story of Neeson's career and his thoughts on acting. Plus, an exclusive interview with former mafia scion John Gotti Jr.; the resurgence of Nat Sherman cigars; and a comparison of thriving Las Vegas to waning Atlantic City.
---
Previous
Next