Cigar Aficionado Magazine Archives
---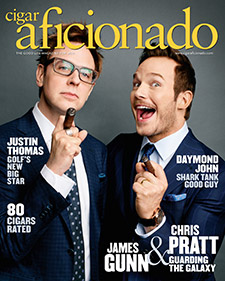 Chris Pratt and James Gunn became Hollywood royalty with the unlikely success of Guardians of the Galaxy. Now they're seeking an encore. Read all about this actor/director team and how they forged a bond of friendship over cigars in June's Cigar Aficionado. Plus, we talk to Daymond John, who got his start hawking hip-hop fashion and segued to dispensing business wisdom on TV's "Shark Tank," Justin Thomas vaults to the top of the PGA Tour with big drives and youthful exuberance and cigarmaker Jonathan Drew retakes the helm at Drew Estate. Also, we rate 80 cigars across six sizes: Churchills, coronas, corona gordas, figurados, grandes, and robustos. On newsstands everywhere May 2.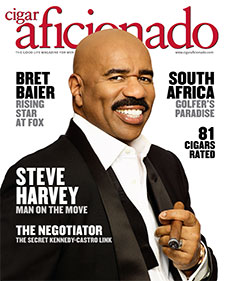 The multitasking comedian/author/television host Steve Harvey maintains a go-go schedule. In April's Cigar Aficionado, Harvey talks returning to the Miss Universe pageant despite his fabulous flub, collecting fine cigars and his meeting with President Trump. Plus, we take a tour of South Africa's golfing delights, sit down with Fox News' rising star Bret Baier, and recount the story of James Donovan, the American who negotiated the release of hundreds of prisoners held in Cuba's prisons and opened the door to diplomacy between the two nations. Also, we rate 81 cigars across six sizes: Churchill, corona gorda, figurado, lonsdale, panetela and robusto.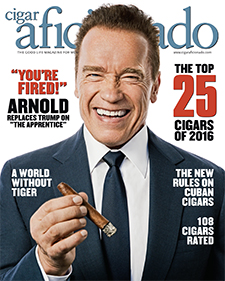 Just when Arnold Schwarzenegger seemed to have done it all, the champion bodybuilder turned surprisingly versatile actor turned two-term governor of California is replacing Donald Trump on "The New Celebrity Apprentice." In February's Cigar Aficionado, we catch up with Arnold in California where he smokes cigars and drives a tank. Plus, we announce our Top 25 Cigars of 2016 as well as a plethora of best cigar buys and new releases, take a look at what the PGA Tour would have been like without Tiger Woods, break down the new rules on Cuban cigars and explore new trends in large-ring-gauge cigars. Also, we rate 83 cigars across six sizes: Churchills, corona gordas, figurados, grandes, miscellaneous and robustos.
---