Cigar Aficionado Magazine Archives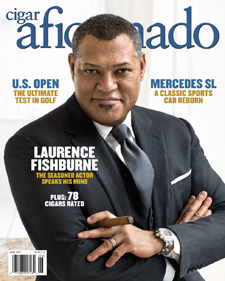 May/June 2013:
Laurence Fishburne
Laurence Fishburne is serious about his craft but has made sure that cigars play a role in his real life. Read about his distinguished career and smoking preferences in the June issue of Cigar Aficionado. Also, read how Mercedes has returned to its SL roadster roots as well as an interview with former NFLer Tony Siragusa. Plus, see how cigar lovers have built creative "man caves" in their homes, as well as an interview with Davidoff's Hendrik Kelner. ON NEWSSTANDS NOW!
---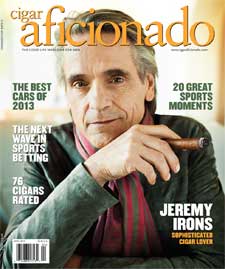 March/April 2013:
Jeremy Irons
Jeremy Irons doesn't care what you think about his cigar smoking. He's going to puff away regardless. The April issue of Cigar Aficionado goes into detail about the actor's craft and his love for fine smokes. Also, find out why so many cigar companies are releasing small batch brands and what "small batch" actually means. Plus, a look at the greatest moments in sport from the last 20 years, the best luxury cars of the year and we talk with PGA pro Tommy "Two Gloves" Gainey.
---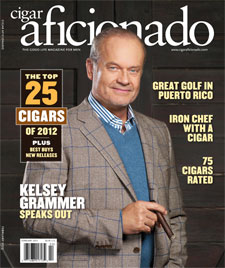 January/February 2013:
Kelsey Grammer
In the February issue of Cigar Aficionado we speak with actor Kelsey Grammer, who has kept us laughing as TVs Frasier Crane for 20 years and, thanks to subsequent successes, shown us many sides to his thespian skills. Once again we present our top 25 best cigars of the year list (click here to see). Other features include a look at the Puerto Rican golf scene, the secrets of a group of Christians who have made millions counting cards, a profile of star chef Geoffrey Zakarian and an interview with Litto and Ines Lorenzo-Gomez, the husband-and-wife team behind La Flor Dominicana.
---
Previous
Next