Cigar Aficionado Magazine Archives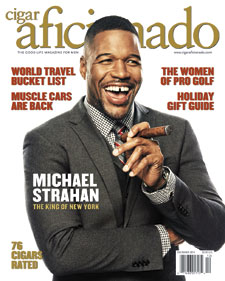 November/December 2014:
Michael Strahan
Michael Strahan went from New York Giants defensive end to morning talk show cohost. Where do cigars play a role? Read about it in the December issue of Cigar Aficionado, as well as our cigar lovers' holiday gift guide and a story about the rise of the unorthodox Room101 cigar brand. Plus, a comparison of the best rivalries in sports, profiles of the ladies of the LPGA, touring the seven wonders of the world, and a look at how fine-aged rums are nearing connoisseurship. All this and more, ON NEWSSTANDS NOW!
---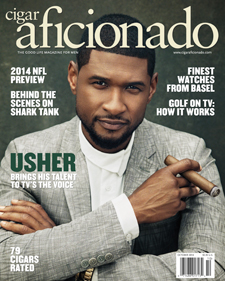 September/October 2014:
Usher
Between his platinum records, a movie acting career and his cultivation of talent on "The Voice," the popular entertainer known as Usher is also a passionate cigar smoker. The October issue of Cigar Aficionado profiles his rise to fame. Plus, Padrón celebrates 50 years in the cigar business; our annual NFL football season preview; a behind-the-scenes looks at television's "Shark Tank"; and a profile of longtime sportscaster Dan Patrick.
---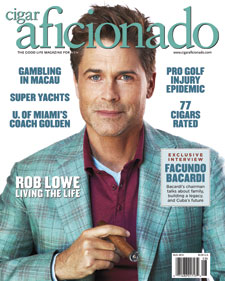 July/August 2014:
Rob Lowe
Rob Lowe recently turned 50, and the August issue of Cigar Aficionado gives a contemplative look at this cigar lover's life, from his days in the Brat Pack to becoming a father. Also, Marvin R. Shanken's exclusive Q & A with Facundo Bacardi; an interview with Rafael Nodal, owner of the Aging Room cigar brand; a feature about why so many pro golfers are getting injured; plus a look at how Macau transformed itself into a gambling mecca.
---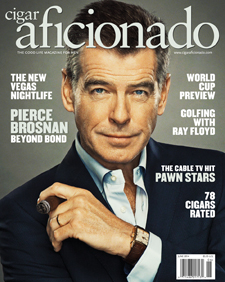 May/June 2014:
Pierce Brosnan
Pierce Brosnan's days of 007 might be over, but the cigar-lover's acting career is thriving. With six completed movies awaiting release, Brosnan reflects on his body of work in the June issue of Cigar Aficionado. Also, an interview with Rocky Patel and his flourishing venture in Nicaragua; a profile of golf legend Ray Floyd; the new night clubs of Las Vegas; a preview of the upcoming World Cup; plus a talk with Washington Nationals executive and cigar smoker Mike Rizzo.
---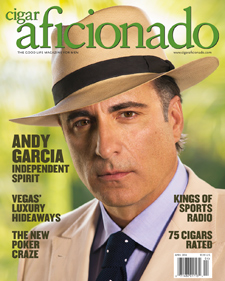 March/April 2014:
Andy Garcia
Andy Garcia built his career with a laundry list of Hollywood hits. Today, he's following his passion by writing and directing films of his own. In the April issue of Cigar Aficionado, Garcia talks independent film and the creative process. In addition, we judge the best sports radio shows currently ruling the airwaves, take a look at Chinese Poker, the hottest new gambling game, and talk with former footballer Carl Banks about his favorite cigars. All this and more.
---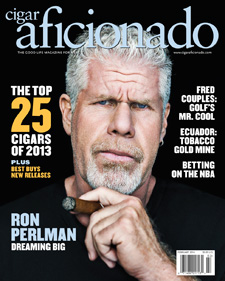 January/February 2014:
Ron Perlman
Actor Ron Perlman truly loves cigars. When his movie career went into temporary hibernation, two things stayed constant—his love of acting and his passion for good smokes. Read about Perlman's recent acting renaissance in the February issue of Cigar Aficionado. In addition, check out our list of the Top 25 Best Cigars of 2013, read an interview with golfer Fred Couples, and explore Ecuador Havana wrapper, the current go-to cigar cover leaf.
---
Previous
Next