Cigar Aficionado Magazine Archives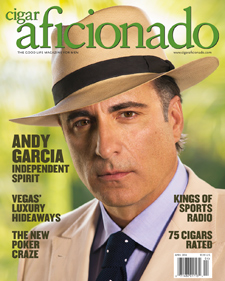 March/April 2014:
Andy Garcia
Andy Garcia built his career with a laundry list of Hollywood hits. Today, he's following his passion by writing and directing films of his own. In the April issue of Cigar Aficionado, Garcia talks independent film and the creative process. In addition, we judge the best sports radio shows currently ruling the airwaves, take a look at Chinese Poker, the hottest new gambling game, and talk with former footballer Carl Banks about his favorite cigars. All this and more, ON NEWSSTANDS NOW!
---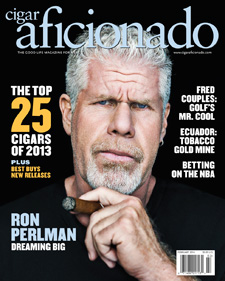 January/February 2014:
Ron Perlman
Actor Ron Perlman truly loves cigars. When his movie career went into temporary hibernation, two things stayed constant—his love of acting and his passion for good smokes. Read about Perlman's recent acting renaissance in the February issue of Cigar Aficionado. In addition, check out our list of the Top 25 Best Cigars of 2013, read an interview with golfer Fred Couples, and explore Ecuador Havana wrapper, the current go-to cigar cover leaf.
---
Previous
Next