Cigar Aficionado Magazine Archives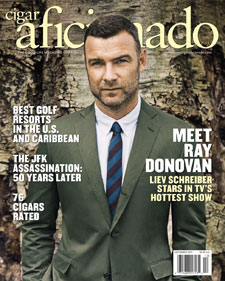 November/December 2013:
Liev Schreiber
Liev Schreiber portrays Ray Donovan in the cable-television show of the same name. In the December issue of Cigar Aficionado, Schreiber talks about what it's like to play such a challenging role. Also, we rank the 25 best golf resorts in the United States, discuss the conspiracy theories surrounding the John F. Kennedy assassination, and profile a group of jet-setting poker players. Plus, we present our annual holiday gift guide of cigar accoutrements, and offer a Q&A with tobacco man Nestor Plasencia Jr. All this and more, ON NEWSSTANDS NOW!
---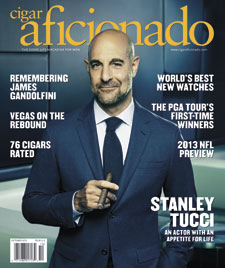 September/October 2013:
Stanley Tucci
Stanley Tucci's biggest passions are acting, cooking and smoking. Read about this Renaissance man in the October issue of Cigar Aficionado. Also, we look at the 11 PGA golfers who won their first tournament this year, and we examine how investors are again looking at Las Vegas in a positive light. And, we offer our yearly NFL preview. Plus, editor and publisher Marvin R. Shanken remembers the late James Gandolfini; and senior editor David Savona brings us into the world of Connecticut Broadleaf.
---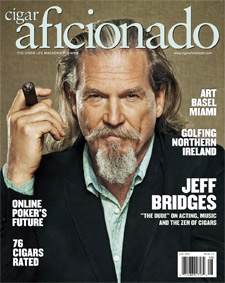 July/August 2013:
Jeff Bridges
Actor and musician Jeff Bridges has brought an understated style to the silver screen for decades, but a love of music turned him into the guitarist of his boyhood dreams. In the August issue of Cigar Aficionado, read about Bridges' take on becoming a cult character and his taste for a good smoke. Also, we highlight Northern Ireland's golf scene, take a look at social media gambling and explore Art Basel Miami Beach. Plus, we interview Javier Estades, head of Altadis U.S.A., and delve into Miami's resurgent cigar factory scene.
---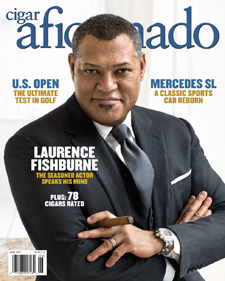 May/June 2013:
Laurence Fishburne
Laurence Fishburne is serious about his craft but has made sure that cigars play a role in his real life. Read about his distinguished career and smoking preferences in the June issue of Cigar Aficionado. Also, read how Mercedes has returned to its SL roadster roots as well as an interview with former NFLer Tony Siragusa. Plus, see how cigar lovers have built creative "man caves" in their homes, as well as an interview with Davidoff's Hendrik Kelner.
---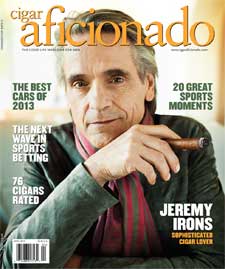 March/April 2013:
Jeremy Irons
Jeremy Irons doesn't care what you think about his cigar smoking. He's going to puff away regardless. The April issue of Cigar Aficionado goes into detail about the actor's craft and his love for fine smokes. Also, find out why so many cigar companies are releasing small batch brands and what "small batch" actually means. Plus, a look at the greatest moments in sport from the last 20 years, the best luxury cars of the year and we talk with PGA pro Tommy "Two Gloves" Gainey.
---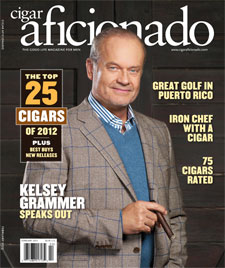 January/February 2013:
Kelsey Grammer
In the February issue of Cigar Aficionado we speak with actor Kelsey Grammer, who has kept us laughing as TVs Frasier Crane for 20 years and, thanks to subsequent successes, shown us many sides to his thespian skills. Once again we present our top 25 best cigars of the year list (click here to see). Other features include a look at the Puerto Rican golf scene, the secrets of a group of Christians who have made millions counting cards, a profile of star chef Geoffrey Zakarian and an interview with Litto and Ines Lorenzo-Gomez, the husband-and-wife team behind La Flor Dominicana.
---
Previous
Next