Cigar Aficionado Magazine Archives
---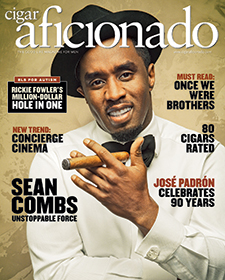 Hip-hop-artist-turned-entrepreneur Sean Combs has created a multifaceted business empire, but it is about more than just the Benjamins. Read all about Combs' success in June's Cigar Aficionado. Plus, find out how PGA star Rickie Fowler added $1 million to the efforts of the Els for Autism Foundation with an unforgettable hole-in-one, go inside the new trend of luxury movie theaters, discover the novels of cigar-smoking author Ronald Balson, and celebrate the 90th birthday of cigar legend José Orlando Padrón. Plus, 80 cigars rated in six sizes: Churchill, corona, corona gorda, figurado, miscellaneous and robusto. On newsstands now.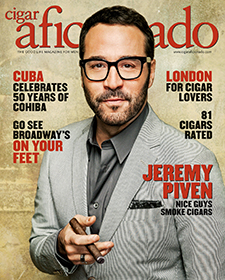 Moving seamlessly from the abrasive agent on "Entourage" to the gentleman retailer of "Mr Selfridge," Jeremy Piven proves his acting range. Read about Piven's illustrious career, and his love of fine cigars, in the April
Cigar Aficionado
. Plus, we go inside London's cigar scene,
celebrate 50 years of Cuba's legendary Cohiba brand
and explore the inspiring story of the Broadway sensation
On Your Feet!
And as always, we rate 81 cigars across six categories: Churchill, Corona Gorda, Figurado, Lonsdale, Panetela and Robusto.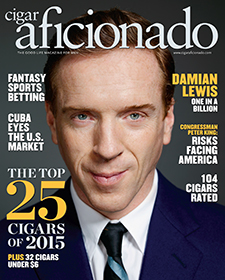 Actor Damian Lewis, the former star of "Homeland," returns to television as a hedge-fund rogue with a common touch in the upcoming Showtime series "Billions." Read about his knack for playing complex characters with a sympathetic side in February's Cigar Aficionado, on newsstands now. Plus, we go inside the world of fantasy sports betting, look at the potential future of Cuban cigars in a post-embargo market and Congressman Peter King assesses the risks facing Americans today. Additionally, we rate 104 cigars, including Cigar Aficionado's annual list of the Top 25 Cigars of the Year.
---