cigar 101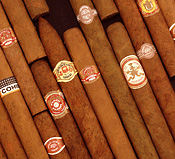 The cigar world is full of confusing terms. We've expanded our glossary to take you step-by-step through the process of making cigars by hand. From seed to smoke, from "A" sized cigars measuring 9-inches long to the Yankee hinges on a Connecticut tobacco curing barn, we have the most extensive cigar glossary available anywhere. Start searching from A to Z.

Each week, we offer tips for how to get the most out of your cigar smoking experience. Have a suggestion for a tip?
Email us at caonline@mshanken.com
Latest:
Band on the Cigar
Have some fun and participate in our weekly poll.
Latest:
What body of cigar do you prefer?
05/20/2013
Our teaching video series explains how to select, cut, light and care for your cigars, as well as other tips.
Candela Comeback: A few cigarmakers are revisiting candelas, once the most popular premium, handmade cigar in America.
The biggest names in the cigar industry give insight into the brand's you love.
Young's Smoke & Mirrors: Behind the scenes of photographer Jeffery Salter's shoot of Litto and Ines Gomez of La Flor Dominicana, exclusively for Cigar Aficionado. ©YOUNG 2013, a Kiss Creative Films production.
New to the world of cigars? These articles will help you get started.