Cigar Aficionado's Glossary
of Cigar Terms
A field of sun-grown tobacco in the Dominican Republic.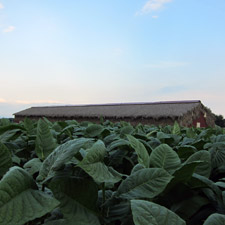 Sun Grown:
Tobacco grown in direct sunlight, which creates a thicker leaf with thicker veins. All filler tobacco is sun grown. Today many types of wrapper tobacco are grown in the open sunlight, which results in fuller flavor and darker leaves. In some regions of the world, such as Ecuador and parts of Indonesia, cloud cover negates the need for shade.
Photo by Barry Abrams