Glossary of Cigar Terms
---
---
Wedge Cutter
Also known as a v cutter or cat's eye cutter, a wedge cutter has a v-shaped blade that gauges an opening in the head of a cigar. These cigar cutters were far more popular in the early 1900s, and many antique models are designed for the smaller cigars of that era.
---
Wheel
A bundle of 100 cigars. Cigar rollers usually use ribbon to tie the cigars they produce into wheels. These are also known as ruedas.
---
Wilting
Allowing stalk-cut tobacco to sit on the ground in the sun after chopping (see photo). The wilted tobacco is then speared on a lathe and hung in a curing barn.
Photo by David Savona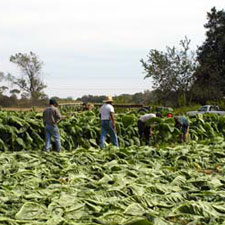 ---
Wooden Match
The best type of match for lighting a cigar. The longer the wood, the easier it is to light your smoke. In this video, Gordon Mott explains a simple way to light your smoke using only three matches.
---
Wrapper
A high-quality tobacco leaf wrapped around the finished bunch and binder of a handmade, premium cigar. Wrapper leaves need to be coddled and treated with the utmost care to avoid blemishes and tears. Wrappers, when purchased, are the most expensive type of tobacco. Wrapper can be grown in many countries from a wide varieties of seeds. The Spanish term for wrapper is capa.
---
---
---
Search our database of more than 17,000 cigar tasting notes by score, brand, country, size, price range, year, wrapper and more, plus add your favorites to your Personal Humidor.
---
---