Glossary of Cigar Terms
---
---
Regional Edition
A program officially begun in Cuba in 2005 to create small-batch cigars for sale only in specific geographic areas. These cigars, known as regional editions, are sold with two bands, the lower one bearing the word "Exclusivo," or exclusive, followed by the country or region for which the cigar was made.
---
Retail Tobacco Dealers of America (RTDA)
The former name of the International Premium Cigar & Pipe Retailers (IPCPR), the leading trade association for retail tobacconists.
---
Ring Gauge
A measurement for the diameter of a cigar, based on 64ths of an inch. A 40 ring gauge cigar is 40/64ths of an inch thick, a 64 ring gauge cigar would be one inch in diameter (see photo). Cigars have grown very fat in recent years. Diamond Crown, made by Tabacalera A. Fuente for J.C. Newman Cigar Co. in the mid-1990s, made headlines in year 1995 when it debuted with all 54 ring gauges, considered quite fat at the time. Today it is not uncommon to see cigars with ring gauges of 60 or more.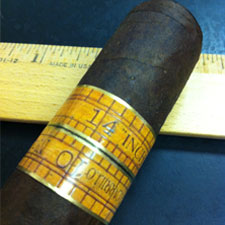 ---
Robusto
A substantial, but short cigar; traditionally 5 to 5 1/2 inches by a 50 ring gauge. Robustos have become the most popular cigar size in the world. For Cigar Aficionado ratings on robustos, click here.
---
Roller
A worker in a cigar factory who makes a cigar. In factories where the rolling and bunching is divided, rollers put the outer wrapper leaf on a cigar.
---
Rolling Gallery
A name for the area in a cigar factory where cigars are made by hand (see photo). The production is often split between cigar rollers and cigar bunchers. Bunchers work with filler and binder to create the bunch, rollers wrap the cigar leaf around the finished bunch, creating the cigar.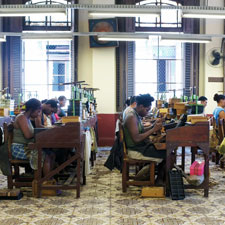 ---
Rolling Method
The way a cigar is rolled by hand. There are three main styles: booking, which involves laying each leaf atop one another, as pages of a book would lie; the accordion method, which involves layering each leaf in a wavy pattern that resembles an accordion when finished; and entubado, or entubar, where each component filler leaf is rolled like a straw or tube before being wrapped in the binder and then the bunch.
---
Rolling Table
The station, typically made of wood, where a cigarmaker sits and works.
---
Rosado
A Spanish term that means "rose-colored." It is used to describe the reddish tint of some Cuban-seed wrapper.
---
---
---
Search our database of more than 17,000 cigar tasting notes by score, brand, country, size, price range, year, wrapper and more, plus add your favorites to your Personal Humidor.
---
---