Cigar Aficionado's Glossary
of Cigar Terms
Oil :
The mark of a well-humidified cigar, and an attractive element to the wrapper of a cigar.
Olor (oh-LORE):
A variety of Dominican cigar tobacco known for its big leaves. It is used as filler tobacco and especially as binder tobacco.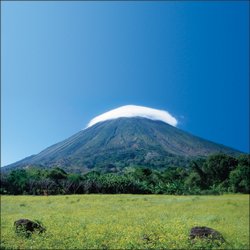 Ometepe (OH-muh-teh-pay):
A volcanic island near Lake Nicaragua where a small amount of tobacco is grown (see photo).
Oscuro (osk-KURR-oh, or oh-SKOO-roh):
The blackest shade of wrapper, darker than maduro.