Glossary of Cigar Terms
---
---
La Casa del Habano
A cigar store specializing in Cuban cigars. Habanos S.A., a Cuban company owned by the Cuban government, is a part owner in all La Casas.
---
Lance
A cutter with a pointed, sharp end used to pierce a small hole in the closed end of a cigar. Also called a piercer. Lances and piercers are relatively uncommon today.
---
Lancero
A long, slim cigar that is part of the gran panetela family. The first lanceros were rolled at El Laguito in the 1960s with the creation of the Cohiba Lancero. For the Cigar Aficionado story on lanceros, click here.
---
Larguero
The front side of a cigar box, which normally bears the brand name and other decorative elements. The country seal often wraps around from the top of the box, down over the larguero and then underneath to the bottom of the box.
---
Lathe
A wooden pole, also known as a cuje (COO-hey), used to hang freshly harvested tobacco leaves in a curing barn, or casa de tabacco (see photo). Some less advanced versions use wooden strings, known as sartas. The tobacco is held to the sarta, cuje or lathe using string that is sewn through each leaf. Most countries sew the leaves by hand, but in Connecticut the process is done via a special sewing machine.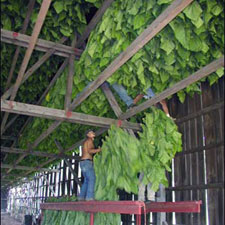 ---
Lector
A person who reads to the cigar rollers while they work. This practice is no longer common, but still occurs in many Cuban cigar factories and on rare occasion in a factory outside of Cuba.
---
Libre de Pie (LEE-bray day pee)
The tiny leaves that grow at the lowest level of tobacco on a plant. Libre de pie, or sand leaf, is often not used, and discarded.
---
Lieberman
A hand-powered bunching machine device consisting of a leather pad, metal handle and guides that aids in the creation of the bunch. These devices are used practically everywhere in the Dominican Republic, but are rare in Central America and not used in Cuba. The devices are also known as Temscos.
---
Ligero
One of the three basic grades of filler tobacco. Ligero is the strongest variety (seco is the mildest, viso is stronger than seco but more mild than ligero.) Ligero lends body to a blend. The name means light in Spanish, and these leaves—which come from the top section of a tobacco plant—receive the most sunlight of any tobacco leaf. They are noticeably thicker than other leaves. Ligero grown in the Estelí region of Nicaragua is known for being one of the strongest varieties used in the cigar industry.
---
Lighter
A mechanism for lighting your cigar. Be sure to use a butane-powered lighter (see photo), as lighters that run on lighter fluid can taint your cigars with a foul flavor.
Watch the editors of Cigar Aficionado explain the best way to light your cigar.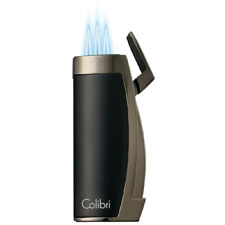 Colibri's Enterprise III Lighter.
---
Lighter Fluid
A petroleum distillate used primarily for wick lighters, also known as naptha. This fluid has an odor similar to gasoline, and lighters fueled with it are inappropriate for cigars. Cigars should be lit with lighters powered by butane gas, or with sulphur free matches.
---
Long Filler
Filler tobacco consisting of whole leaves, which run the length of the body of the cigar, rather than chopped pieces (short filler) found in machine-made cigars. The Spanish term for filler tobacco is tripa.
---
Loose
Describes a cigar that is underfilled and has a quick draw. A cigar with a loose draw often burns hot and causes harsh flavors. Not desirable.
---
---
---
Search our database of more than 17,000 cigar tasting notes by score, brand, country, size, price range, year, wrapper and more, plus add your favorites to your Personal Humidor.
---
---