Glossary of Cigar Terms
---
---
Jalapa (hah-LAH-pah)
One of the three main tobacco growing areas of Nicaragua. The Jalapa Valley is known for its subtle, elegant tobacco, and much of the tobacco grown here becomes Nicaraguan wrapper. The soil in Jalapa is red and clay like, and considered some of the most prized growing areas for tobacco anywhere.
---
Jamastran (hahm-as-TRAHN)
A valley in southern Honduras where fine tobacco is grown. Jamastran is located not far from the cigarmaking town of Danlí and very close to the border of Nicaragua.
---
Jar
Ceramic (see photo) or glass, these are decorative vessels that often double as humidors and usually hold 25 cigars. Often, jars are released as limited-edition promotions of certain brands. Amatista jars are heavy glass jar containing 25 or 50 cigars. This method of packaging is seldom seen today, but was very popular in the 1950s and 1960s. H. Upmann cigars from Cuba originated the practice in the early 1900s. The jars were lined with Spanish cedar and sealed tight, and promoted as being "factory fresh."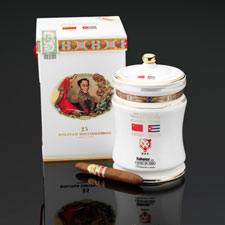 A special decorative cigar jar full of Cuban Bolivar Distinguidos.
---
---
---
Search our database of more than 17,000 cigar tasting notes by score, brand, country, size, price range, year, wrapper and more, plus add your favorites to your Personal Humidor.
---
---