Counterfeit Gallery
Fuente Fuente OpusX
---
Original band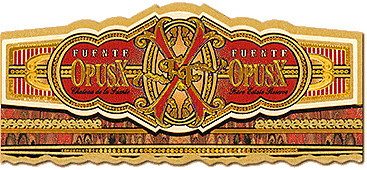 The Fuente Fuente OpusX has one of the most intricate bands in the world. It features fine, raised lettering and a jagged bottom border. Note the intricate "s" design near the bottom that runs through the nebulous reds, oranges, blacks, golds and yellows. Also note the rough, gold bordering.
---
Counterfeit purchased in Detroit, Michigan
---
Because this is probably the most complex cigar band being forged on the market, it's not surprising to see many discrepancies in this fake. The gold bordering is dull, almost tan, and the red background and red "X" is a lighter, more inferior shade than the blood-red color on the authentic band. Specks of gold dust should be evident upon the red background as well, yet there are only a few flecks on this fake. The lettering of "OpusX" is not raised and falls off-line with a white matting that should be black. This holds true for other areas on the counterfeit band—a blurry white background can be detected beneath the faint gold dots that outline the centerpiece, as well as the two rows of reverse "S's" and straight gold lines near the band's bottom. On all real OpusX bands, the base has a craggy bottom and profuse colors that bleed into one another. On this fake, those melding colors are too indistinct -- the counterfeiters speckled hints of gold upon the colors to create the appearance of a blend. However, the most prominent sign that distinguishes this band as a counterfeit can't be seen—the paper is too light, weak and flimsy compared to the stiffer quality of the genuine article.
Counterfeit purchased in Texas
---
This rendering is impressive at first glance, but its flaws become clear upon close examination. It lacks the gold bar that supports the horizontal "s" motif beneath the centerpiece, and the "s" motif itself is crude. The gold coloration is far too intense, and lacks the warmth of the genuine article. But the biggest problem is that the border of the centerpiece is filled in with black ink rather than gold dots of a real Fuente Fuente OpusX band.
Counterfeit of unknown origin
---
You obviously won't be able to tell online, but this fake is given away but its flat surface (the real deal has raised detailing) and thin, cheap paper. Also, the centerpiece is muddled and inexact, the gold is lackluster and the red is way too bright.
---
---
---
---