The 25 Best Cigars of the Year 2013
9
---
Factory Location
Dominican Republic
Filler
Nicaragua, Brazil, Dom. Rep.
---
Gurkha 125th Anniversary XO
---
Gurkha cigars have long been known for eye-popping packaging, and considerably high prices. The company makes one cigar brand that sells for $700 a box, and another flavored with Cognac that retails for nearly $500 for a single cigar. A few years ago, however, the company set out in a new direction, adding new brands with more traditional pricing, and seeking out other cigar factories to make its brands under contract, expanding its portfolio. The new cigars have done well in our blind taste tests, none better than the Gurkha 125th Anniversary XO.
Made at the standout PDR Factory in Tamboril, Dominican Republic, this cigar impressed us again and again in our tests. It has a lovely flavor of dried orange peel, some leather and cedar, and is a balanced smoke with no shortage of elegance.
Brand owner Kaizad Hansotia dates the origin of the Gurkha name on cigars back 125 years; he bought the brand rights in the 1980s and brought Gurkhas to the United States in the 1990s. This is the first time one of his cigars has placed in our Top 25, and the best score we've ever given a Gurkha.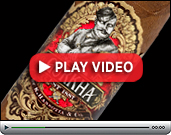 Watch the video of Gordon Mott and David Savona smoking the Gurkha 125th Anniversary XO.

---
---
---
---