The 25 Best Cigars of the Year 2013
8
---
Factory Location
Nicaragua
---
Herrera Esteli Piramide Fino
---
Drew Estate has grown into one of the world's largest makers of cigars by hand. It's an incredible success story. The company's roots began in New York in 1995 when Jonathan Drew and Marvin Samel opened a cigar kiosk at the World Trade Center Mall in downtown Manhattan with all of 16 square feet.
Today the company operates one of the world's largest cigar factories, a massive, colorful and beautiful creation that reflects the eclectic style of the founders. Drew Estate makes tens of millions of cigars each year, including the heavy bodied Liga Privada brand, wrapped in Connecticut broadleaf, and the infused Acid brand.
In 2011, Drew Estate hired Willy Herrera, the former cigar blender from Miami's miniscule but standout El Titan de Bronze, a factory on Calle Ocho. After considerable time getting a feel for the new, much larger operation, Herrera put the finishing touches on a new cigar, and in early 2013 Drew Estate launched Herrera Esteli.
We were taken from the beginning with the Herrera Esteli Piramide Fino, a chunky figurado (it looks more like a Cuban belicoso than a piramide) made from a mix of Nicaraguan, Honduran and Ecuadoran tobaccos that deliver a medium body, with notes of spice—both earthy and sweet—and a long, long finish. It's a brilliant smoke. This is the first time Drew Estate has made our Top 25, and the rating is its best ever from Cigar Aficionado.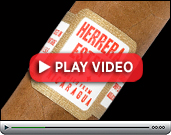 Watch the video of Gordon Mott and David Savona smoking the Herrera Esteli Piramide Fino.

---
---
---
---