The 25 Best Cigars of the Year 2012
7
---
Factory Location
Dominican Republic
---
Ashton Heritage Puro Sol Belicoso No. 2
---
The Ashton Heritage Puro Sol brand combines three landmark cigar families in one delicious cigar. All Ashtons are made by the Fuente family for the Levins, and Ashton is one of the best-known names in cigars. This somewhat off the radar variety, called Puro Sol, is also the only Ashton made with Cameroon wrappers, which come from the Meerapfel familiy, the leading name in Cameroon tobacco.
Cameroon is an intriguing tobacco, grown on small plots of land in Western Africa under cloudy skies, on lands so fertile that farmers must hack them clear with machetes every year. The wrapper develops natural, small bumps, known as tooth in the cigar industry, and it pairs beautifully with the Dominican tobaccos Fuente uses in this blend.
The Ashton Heritage Puro Sol Belicoso No. 2 is a tidy size—less than five inches long—and it sports a ring gauge of 49, which feels slim in the hand in this world of ever-fatter cigars. The cigars are rich and beautifully balanced, with notes of leather, coffee and a chocolate sweetness.
This is the second time that an Ashton Heritage Puro Sol has placed in our Top 10: the robusto size ranked No. 10 in our 2008 Top 25 list.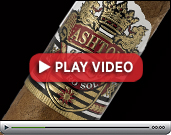 Watch the video of Gordon Mott and David Savona smoking the Ashton Heritage Puro Sol Belicoso No. 2.

---
---
---
---