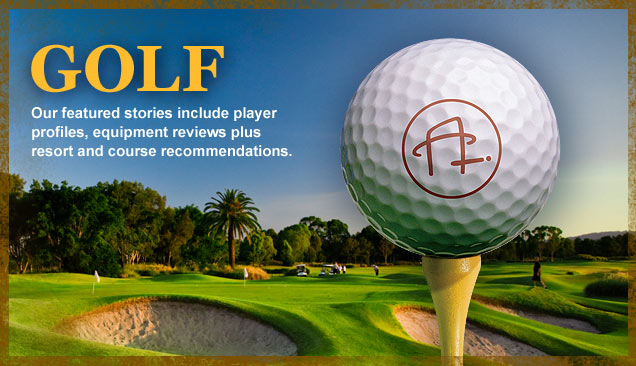 Six-time major tournament victor, and winner of 43 tournaments worldwide, Nick Faldo is enjoying his new role as a TV commentator
Posted: January 1, 2010 By Jeff Williams
---

Only four professional golfers are members of the most exclusive club in the game: a 59 in official competition
Posted: December 1, 2009 By Jeff Williams
---

The PGA Tour has invested millions of dollars in a hi-tech system called Shot Tracker that follows the moves of every player in a tournament
Posted: October 1, 2009 By Jeff Williams
---

Rory McIlroy has already earned the highest respect of his professional golf rivals while climbing into the world's Top 20
Posted: August 1, 2009 By Jeff Williams
---

The February stop in Scottsdale, known today as the FBR Open, is simply the most raucous, outrageous, unruly four-day golf competition anywhere
Posted: June 23, 2009 By Jeff Williams
---

The world of golf braces for a tough year as corporate sponsors tighten their belts and golfers cut costs
Posted: April 21, 2009 By Jeff Williams
---

I am far from being an authorized critic of golf equipment, but I do play a lot. I recently had the opportunity to try out the new square-headed...more
Posted: April 1, 2008 By Marvin R. Shanken
---

Some professional golfers are not cookie-cutter people with robot-like personalities, and they bring those sometimes off-the-wall qualities to every tournament.
Posted: April 1, 2008 By Jeff Williams
---

A renovation at Sleepy Hollow pays homage to its original designer, Charles Blair Macdonald, and brings a storied New York course into the modern era
Posted: February 1, 2008 By Jeff Williams
---

For the first time in two decades, Robert Pedrero addresses the golf ball with complete confidence. Surprisingly, it was never his swing that worried...more
Posted: December 1, 2007 By Larry Olmsted
---

The Dominican Republic's eastern shore is taking shape as a world-class golf and resort destination.
Posted: December 1, 2007 By Jeff Williams
---

For a $50,000 entry fee, a group of starry-eyed golfers teed it up at Wynn Las Vegas for a $2 million prize in the Ultimate Game
Posted: October 1, 2007 By Jeff Williams
---