Celebrities
« < 1 2 3 4 5 6 7 8 9 10 11 12 > »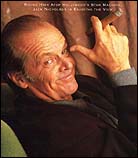 Riding high atop Hollywood's star machine, Jack Nicholson is enjoying the view.
Posted: May 14, 2012 By Arthur Marx
---

Christophe Navarre, who leads one of the world's most prestigious wine and spirits companies, likes to start the day with a good cigar.
Posted: April 1, 2012 By Per-Henrik Mansson
---

Brad Paisley Is at the Top of the Country Music World, writing songs and smoking cigars
Posted: April 1, 2012 By Marshall Fine
---

Sean Hannity has led Fox News to the No. 1 slot on television with his unflinching conservative beliefs
Posted: March 22, 2012 By Marshall Fine
---

Entrepreneur Tom Celani has built an empire of casinos, a Harley-Davidson dealership and a winery by always putting customers first.
Posted: December 1, 2011 By Marshall Fine
---

Winemaker Franck Duboeuf sits in the passenger seat of a tank-sized 1976 Cadillac Calais with a case of Beaujolais wine on his lap. Almost every inch...more
Posted: November 22, 2011 By Gregory Mottola
---

New York Giant Justin Tuck punishes his opponents on the field, but off the gridiron he's all heart
Posted: October 1, 2011 By Michael P. Geffner
---

Joe Mantegna is at the top of his game and aims to keep playing Hollywood's Major Leagues
Posted: August 1, 2011 By Marshall Fine
---

Joel Surnow relishes his role as a conservative in the generally liberal sound stages of Hollywood
Posted: July 20, 2011 By Marshall Fine
---

Jim Nantz began his dream job as a sports commentator right out of college, and to this day is thrilled by The Masters, March Madness and his NFL broadcasts
Posted: June 1, 2011 By Marshall Fine
---

The star power is set on "Mute" as Matthew McConaughey rolls up on his bicycle. It's hardly a movie-star entrance: no limo or flashy car, no...more
Posted: April 1, 2011 By Marshall Fine
---

Nicole Lapin, an anchor at CNBC, sees cigars as a natural tool to create camaraderie
Posted: February 1, 2011 By Mervyn Rothstein
---