Celebrities
« < 7 8 9 10 11 12 13 14 15 16 17 18

A White House tradition is in danger of disappearing.
Posted: September 30, 1993 By Carl Sferrzza Anthony
---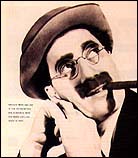 Groucho Marx knew the secret word was enjoyment.
Posted: March 31, 1993 By Arthur Marx
---
Ridley Scott, Cohiba in hand, directs Gérard Depardieu in 1492.
Posted: September 30, 1992 By Paul Chutkow
---

Gregory Hines scores big on Broadway with Jelly's Last Jam.
Posted: September 30, 1992 By Mervyn Rothstein
---