Gregory Mottola
Gregory Mottola
See Also:
Posted: Apr 2, 2013 2:00pm ET
It was almost 12 years ago when I first had an Avo Uvezian cigar. I was on a business trip in downtown Chicago and ordered it from a cigar menu after dinner back when restaurants in the Windy City still allowed you to smoke and actually provided table side cigar service. I even convinced the waitress to ring it up on the bill as dessert so that it wouldn't look questionable on my expense report when I got home. This, of course, was before I worked for Cigar Aficionado. I recall it was a Domaine Avo Robusto. Believe it or not, I still have the band. Yes, I collect bands. Call it a form of philately combined with a generally geekish instinct to collect things. No matter.
That evening, I was dining alone, as I often do, and drifting a bit while smoking. Back then, even though I was a cigar smoker, I didn't know the story of Avo Uvezian's musical career and certainly never thought that nearly 12 years later I'd be dining with the man, much less celebrating his birthday. But that's exactly what I did last week. Uvezian turned 87 years old (or years "young" as Avo insisted) on Thursday. And, as has been the custom for Avo since 2001, he released a limited-edition anniversary cigar in honor of his birthday. The party was 39 stories above ground level at Manhattan's Grand Havana Room and even though there were plenty of Avo cigars being passed around during the celebratory dinner, I was really holding out for the Dominant 13th, which was the main cigar of the evening. Named after a complex jazz chord, the Dominant 13th is a 6 inch by 52 ring smoke made by Davidoff with mostly Dominican tobacco, a bit of Peruvian leaf and an Ecuadoran wrapper.
The dinner in New York kicked off Uvezian's promotional tour. Even at 87, he'll be visiting five more cities until May, but this is always the grandest event and actually falls right on Avo's birthday.
Jim Young, the North American president of Davidoff, took the microphone and announced to the room of about 75 people that the Avo brand is Davidoff's second best-selling cigar after the White Label. Avo makes up 20% of the company's cigar sales. I didn't know that, but it makes sense. There are plenty of smokers who have the taste for Davidoff cigars, but not necessarily the budget, so it seems to me that the Avo brand satisfies that demographic without sacrificing quality. Still, Avo Uvezian is by no means a cheap cigar.
---
Posted: Feb 28, 2013 12:00am ET
Don't ever start a ProCigar Festival with an empty stomach. I don't care how tough you think your gut is, if you start smoking at 8:30, that's about 4 hours of power puffing until lunch, and I refused to make that mistake. My key to survival was this: mangú. It's a dense dish of mashed plantains often eaten for breakfast in the Dominican Republic. This is why I could spend each morning smoking one cigar after the next without keeling over.
Thursday morning. Some changes at Corporacion Cigar Export since I was there last year. The small facility is owned by Augusto "Fufi" Reyes and I figured I'd hit two birds with one stone by taking this tour, which also featured the MATASA factory.
On the machine-made end, Reyes has taken on a contract for producing Swisher Sweets. He produces them in a separate building, and this is smart, because no matter how hermetic you think your operation is, flavors will travel. There is no sense in denying it. Tobacco is highly absorbent. Flavorings and infusions are very strong. They will find each other.
Export's main facility got a bit of a face-lift. Each room off the main rolling gallery has a pastel facade decorated with a type of Caribbean Victorian trim, as though it were someone's island home. Destemming and sorting take place on the same floor and the factory is responsible for brands like Augusto Reyes, Augusto Reyes Platinum, Urban and a new brand called Debonair, which was first unveiled at last year's IPCPR show.
Debonair is owned by Phil Zanghi, part owner of Durfort Holdings, a company that owns part of the facility. Zangi, who started Indian Tabac with Rocky Patel, has been in the machine-made business for quite some time, but decided last year to come back to premium. Samples of Debonair were available. I grabbed a robusto. Indeed a tasty smoke and one that Zangi is quite proud of. He's growing the brand at a slow pace. Right now, it's only in 30 shops, but is certainly worth trying. Keep your eye on that guy.
---
Posted: Feb 26, 2013 12:00am ET
I'm smoking something right now that you've never smoked. Nobody has. It's a combination of Dominican and Nicaraguan ligero with a Brazilian Oscuro wrapper, but it's all blended around a particularly mouth-coating bunch of Connecticut Broadleaf. I put it together myself. Or, more truthfully, I told Abe Flores of PDR Cigars what I wanted in terms of flavor and he chose the tobaccos during my visit to his factory. This was at last week's ProCigar Fest. Though not officially part of the ProCigar tour, it was one of my many stops during this annual Caribbean celebration of the Dominican Republic's cigar industry. More on my blend later.
It's difficult to figure out a way to write about the ProCigar Festival without sounding like some kind of brochure from the Dominican Republic's tourist commission. I say this because the trip really is as fun and enlightening as all the promotional literature tells you. Especially when the trip happens to fall in the dead of winter. I go from freezing temperatures straight to a summer-like climate in a matter of three hours. As soon as you step out of the airport terminal you're handed a Presidente beer and a cigar. Literally. I'm not exaggerating. I don't think people are aware of just how generous the industry is during the time of the festival and just how many cigars each company is willing to hand out. You land in Santiago, get your bag, clear customs, and there is a ProCigar stand outside full of beer and smokes for you to enjoy while you're waiting for your cab. And yes, you are allowed to smoke and drink right there at the airport. The sky is blue, palm trees rustle in the warm breeze and you don't need a jacket anymore. This pretty much sets the tone for the entire festival—my fourth one so far, and this little touch still gives me a thrill.
Tuesday afternoon. I register at the hotel and am handed a military grade canvas goodie bag loaded with merchandise: an ashtray, coffee mug, coffee, magazines, polo shirt, hat, Xikar cutter, Xikar torch lighter and, of course, a sampler box of cigars. Great cigars. And I'd be lying if I told you that my eyes didn't go right to the Fuente Fuente OpusX The Angel's Share. Now before I'm accused of favoritism or political incorrectness, I just want to be clear about something. I'm not saying that the Opus is any better or worse than any other cigar in that box. But you have to understand that Fuente only rejoined the ProCigar consortium last year, so I'm not exactly used to seeing OpusX, let alone any Fuente products at all, in the swag bag. Considering that Carlos "Carlito" Fuente Jr. couldn't be present for the festival, I took this as a gesture of good will from the Fuente family. They also included a Churchill sized Don Arturo Aniversario Destino al Siglo. I've never even seen one of these, period.
---
Posted: Nov 20, 2012 12:00am ET
Confession: Until this past weekend, I'd never been to Tampa or Ybor City before. I know, I know, for a cigar smoker it's a shame, but for an editor at Cigar Aficionado, it's closer to a disgrace. I admit it. That's why when I heard that the Fuente family was restoring their historical old red brick factory in Ybor over on North 22nd Street, I hopped on the first flight straight to Tampa and arrived in time for the dedication and cocktail party.
Now when many people talk about building "restoration," the project is often a half-hearted attempt that employs unqualified contractors who bid at the lowest price, use standard-quality materials and have no real understanding of period-construction or architecture. I've seen substandard "restoration" too many times-sculpted plaster ceilings covered by drop panels, mosaics ignominiously troweled over, Carrera marble replaced with cheap composites-my rant could fill a book. But this entry isn't about unskilled labor. It's about what Carlos "Carlito" Fuente Jr. has done to an old red-brick cigar factory and how his commitment pays tribute to the history of Ybor City.
"I don't even look at the bill, I don't care," said an enthusiastic Carlito as he took me around the building during the party. "It's not about money. It's about Tampa. About Ybor city and building a monument-no. I don't want to say monument. It's too strong a word. I want to give something tangible to my children. Passing the torch is just as important as making your mark in this world."
So what exactly has he done? Well, the family bought this brick building in 1964. It was originally a cigar factory when it was first built in 1903, but by the time the Fuentes bought it in 1964, it had been a shoe manufacturing facility. For a while this was the center of Fuente's entire logistic operation, from bringing in tobacco to actually rolling cigars. Then around the early 1980s, they moved the cigar-making side to the Dominican Republic and the building, although still used for shipping and receiving, was in slow decay. One day in 2009, when Carlito started replacing some windows on the upper floors, he noticed the neglected beauty of the building and it inspired him to start a full-fledged restoration process: All the exterior brick mortar was scraped out and re-applied; interior bricks were all ground down for a fresher appearance; original wood was salvaged from one floor to restore another; bricks from another demolished factory in Virginia were repurposed for the Fuente building; reproduction electrical fixtures were consistent with vintage photos; and really I could go on and on about the details. I even noticed all the bridge-style faucets and old-fashioned skeleton key covers over the locks.
Fuente Factory building in Ybor City.
---
Posted: Oct 15, 2012 12:00am ET
It's always been surprising to me how little scholarship there is on the subject of vintage cigars. Look at vintage wines, or antique furniture or other period-piece hobbies. They're supported by voluminous documentation and have no shortage of experts or enthusiasts. Vintage cigars, in this respect, are different, so when one comes across a true, world-class expert and collector of vintage cigars, it's like looking through a window into another era.
Ajay Patel is one of those people. He owns the Casa del Habano in Teddington, just outside of London, but unlike many of these official Habanos franchise shops, this one is also stocked with verticals of rare, vintage Cuban cigars. On top of collecting, documenting and selling these treasures, Ajay smokes them, too, which makes him not only knowledgeable about the subject, but a true authority with clear palate recall and a mental Rolodex of old Cuban brands and their respective flavor profiles. When he talks, I listen. And that's what I did recently during a private dinner and tasting of vintage cigars in New York City.
He came over from England to attend Cigar Aficionado's 20th Anniversary party, but while he was here, Ajay rallied a small group of New York's cigar-smoking cognoscenti, and collectors of vintage cigars—a specialized group within a specialized group. He held court about the cigars we were smoking, and why they were relevant in the scheme of Cuban cigar history.
We started with a Montecristo Dunhill Selección Suprema No. 1 from 1959. The wrappers were strikingly dark and oily, the draw flawless, and the smoke of a dense chewy texture that left impressions of earth and cocoa on the palate with underpinnings of salt and cedar. Too often, vintage cigars can be light, papery and dusty tasting. These disappointments are examples of past-their-prime cigars that have aged out and weren't terribly robust or age-worthy to begin with. They can also give vintage cigars a bad name, leading people to believe that this is how all old cigars taste. Obviously not the case for these particular Montecristos.
---
Posted: Aug 20, 2010 12:00am ET
"Tell Jorge to save me a Padrón Family Reserve," I managed to say. It was my last request before bolting out of John Besh's Restaurant August in New Orleans to vomit up the first few courses of a perfectly good dinner.
Let me rewind.
That afternoon I was strolling the French Quarter the day before the start of the IPCPR trade show. To avoid getting soaked in a summer downpour, I ducked into an oyster bar with the intentions of nursing a beer or two until the rain subsided, and who happened to be there at the counter—Carlos "Carlito" Fuente Jr. And he's eating raw oysters. Lots of them, judging by the pile of empty shells. Before I knew what was going on, he put an OpusX Lancero in one of my hands, an Abita beer in the other and ordered me a dozen raw gulf bivalves. "They're fine," Fuente assured. " I eat them all the time and I never get sick." The rain stopped, I slurped down my last oyster and was on my way.
Fast forward back to that evening at Restaurant August on Tchoupitoulas Street. I'm at a small dinner of only eight people, including Jorge Padrón and his wife, Mary, and Litto Gomez with his wife, Ines. Two courses was really all I could get through before I fell into a cold sweat and started drifting from the conversation.
First course is served. Some hollowed out egg, with—I don't know—foam? Veloute? Summer truffles? I'm sure it's great but my stomach gurgles so I send it away and sip some ice water with false hopes of relief. Next course: pork belly topped with cooked peaches. "Yes, that's right, Ruston peaches are in the height of season now," I say to myself as if reciting this will somehow erase my nausea. It looks great, and although my stomach was saying "Don't you dare send that down here," I did anyway, knowing full well the consequences. I had to excuse myself. "Are you alright?" I hear somewhere in the distance. I guess I couldn't hide it any longer. Senior Editor Dave Savona orders me a club soda, but it's too late. Associate Publisher Barry Abrams escorts me to the door, and before I leave, I belch out my last request: "Tell Jorge to save me a Padrón Family Reserve."
---
The inside of Jack Schwartz Importer.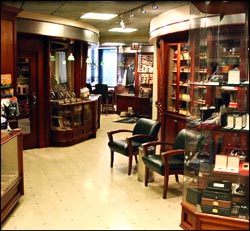 Posted: Mar 5, 2009 12:00am ET
I'm going to spare you the usual Sinatra references to Chicago and get right down to it—Chicago is not the town I left. It has been six years since I last had the pleasure of freezing my tail off on wind-raked Michigan Avenue. The only difference was, six years ago, one could come in from the cold and light up a cigar at pretty much any steak house, bar or hotel lounge. If you didn't have a pocketful of your own smokes, not a problem—every place had a humidor. That was six years ago. Since then, a smoking ban has wiped the city almost completely clean of any indoor smoking. Forget cigar bars, for there are none. All the indoor smoking is done primarily in shops, most of which were never meant to accommodate lounging patrons.
On my brief stay in Chi-Town, I had one afternoon to assess the smoking situation. I started by returning to one of my old standby cigar shops on Hubbard Street. I used to buy cigars there when I'd stay at the Renaissance Hotel on Wacker Drive. The scene was heartbreaking. Not that there was anything wrong with the shop: it still had all its charm and plenty of inventory, but I was told that I was not allowed to smoke inside. The landlord recently changed the conditions of the lease, which makes no sense. It is a cigar shop. People smoke cigars in a cigar shop. That is how the shop pays the rent. So I ended up talking about cigars in the little store instead of smoking them, because talking about cigars is all you're allowed to do. That and drink coffee and read a magazine about cigars. What sadness. I bought a Fuente Hemingway Work of Art Maduro and was on my way. Had the weather not been so cold and windy, strolling the downtown area with a lit cigar would've been delightful. Not an option.
I thought I could walk to the financial district from Hubbard, but that lake-effect winter wind just menaces the downtown area and took the fight right out of me. A quick cab ride later and I was dropped off between two stone statues on a promenade leading to the Chicago Board of Trade building on West Jackson Boulevard, a bustling art deco structure that houses tobacconist Jack Schwartz Importer. It's a small shop with a few highly coveted chairs and some standing room usually overtaken by the handful of patrons wishing to stick around. It is a handsome shop as well, very becoming of its financial clientele. Like the stock market, Jack Schwartz closes at five and is not open on weekends. Even though I had the Hemingway in my pocket, I bought a Padrón 1926 No. 35. The 35s looked like a good batch of naturals and I didn't want to smoke something purchased elsewhere.
---
Posted: Jun 15, 2007 12:00am ET
New York's boxing fans have been forcibly separated from their cigars since the smoking ban took over the city, regardless of the fact that cigars and boxing have always had a complementary, almost poetic relationship. It's a tragic breakup that I still mourn. Look at old photographs of boxing gyms, training camps and arena fights and you'll see that cigars and cigar smoke were practically characters playing a role throughout the history of the sport. Granted, the smoking ban is probably better for the fighters in the ring, but the ritualistic puffing of a good cigar while watching two prospects slug it out is now a fond memory and finable offense, which is why the Heroes and Legends…A Night at the Fights fundraiser was such a special event.
Penthouse Pets Krista Ayne (left) and Kimberly Williams clowning around with fight fans.
Held on Thursday, June 7, by Tuesday's Children, an organization dedicated to raising money for families who lost a parent in the September 11, 2001 terrorist attacks, the event featured seven amateur bouts at the Sheraton Hotel and Towers in Manhattan. Seven officers from the Los Angeles Police Department went up against seven officers from the New York Police Department, giving the event an East Coast versus West Coast theme. All the policemen were legitimate amateur boxers scheduled to fight three-round exhibition-style bouts while the spectators enjoyed a three-course dinner.
The evening started with a cocktail hour in an adjacent room where I met up with Jermaine Gurvin, brand manager for General Cigar Co. General was sponsoring the event and provided cigars for each guest, as well as a box of Partagas Decadas for the evening's auction. I've had mixed feelings about boxing events sponsored by cigar companies since the smoking ban. The companies' hearts are in the right place, but you're never allowed to smoke the cigars at the event. You either take them home, or you go outside, forced to choose between watching the fight or smoking a cigar. It's a frustrating choice to make, and cigar-sponsored fight events essentially end up being a big tease.
---