David Savona archive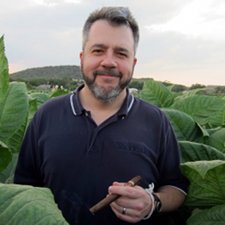 February 2014
Posted: Feb 28, 2014 11:00am ET
Havana Cuba is so rich in fine cigar stores that it's hard to cover all the good ones in one blog, or one visit. I wrote about several shops earlier in the week; to complete the picture of shopping for Cuban cigars in Havana I hit several other stores, which I'll cover here in this sequel of blogs. I even shot a little video. You probably know the Hotel Nacional as the most famous of Cuban hotels (speaking of sequels, it served a role in the best sequel ever made, The Godfather Part II). It also has quite a decent La Casa del Habano. The store has two levels, and the serious stuff goes on downstairs.
Posted: Feb 27, 2014 11:00am ET
If there was any doubt about the fat cigar trend spreading around the world, it was erased last night here in Havana at the Museo Nacional de Bellas Artes. Around 10 p.m., as the band played and the waiters poured a bit more of the 2010 Chateau d'Esclans, a troupe of gorgeous models bearing wooden trays emerged from the back, handing each seated guest a fat, dark cigar the size of a roll of quarters.
Posted: Feb 26, 2014 11:00am ET
Cuba's capital city is the heart of Cuban cigar production, where most (but not all) of the nation's handmade cigars are rolled. But it's also a tourist mecca, and many of the travelers here are looking for cigars. The city has an abundance of cigar shops, including a host of exceptional La Casa del Habano stores worthy of a visit.
Posted: Feb 25, 2014 10:45am ET
It was the biggest of cigars, it was the smallest of cigars... A bit of an exaggeration? Yes. But my tobacco-take on the opening of A Tale of Two Cities shows the contrasting sizes of the two new cigars introduced last night at the opening event to the Habanos Festival. Let's start with the big guy first, the Hoyo de Monterrey Le Hoyo de San Juan. You might not be terribly familiar with the Le Hoyo series of Cuban cigars, and that's forgivable. They aren't exactly high-profile cigars, despite being quite good. I remember first being introduced to the line on my first trip to this island, back in 1996. I puffed on intriguing cigars, most of them quite small, most of them quite good, with ear-catching names such des Dieux, du Député, du Maire and du Prince. It's been ages since the line has been expanded, and in fact many are getting harder and harder to get in cigar stores. That changed last night with the introduction of the new Le San Juan.
Posted: Feb 25, 2014 10:00am ET
Far below, the blue of ocean was slowly replaced by the green of earth as the big jet dipped toward terra firma. Less than an hour ago we took off from Miami International Airport, and now we were about to land in Havana. The wheels touched down, and a few minutes later, I stepped down the gangway and onto the runway, hit by the heat of the tropics and the bright sky above. I was back in Cuba.
Posted: Feb 22, 2014 11:30am ET
Making premium cigars isn't an easy business. Making them in quantity is even harder, and it requires staggering amounts of aged tobacco leaves. It's a basic premise, but one that goes on behind the scenes at cigar companies, so it's easy to forget. Cigars smokers only see the final product, a neat array of boxed cigars, each cylinder the product of a handful of leaves rolled around one another into glorious, aromatic tubes that deliver savory smoke. But think for a moment about what it takes to make such a product, again and again, year after year.
Posted: Feb 20, 2014 3:30pm ET
I've left behind the ice and snow in New York for the tropical heat of Santiago, Dominican Republic. The ProCigar Festival is in full swing, and many of the nation's cigar companies are showing some 300 visitors all there is to know about Dominican cigars.
---
---
Search our database of more than 17,000 cigar tasting notes by score, brand, country, size, price range, year, wrapper and more, plus add your favorites to your Personal Humidor.
---
---