David Savona archive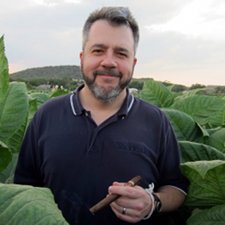 February 2013
Posted: Feb 28, 2013 12:00am ET
It's my fourth day in Havana, and the sun has disappeared, blown away by the wind and the rain. The front seems to be wreaking havoc with the electricity in the hotel, as it keeps going off and coming back on. I opted to take the stairs this morning when I left, instead of risking 18 flights in an elevator, and I felt vindicated when the stairway was plunged into darkness somewhere in the teens. (iPhone flashlight app to the rescue—don't travel without it.) But this is Cuba, and things like this sometimes happen. Comes with the territory. Gordon Mott arrived yesterday, and he met me at La Fontana, a paladar we truly enjoyed a few years ago. (We recommended it in our cover story on Havana.) Rob Fox of J.J. Fox in London and Dublin had organized a lunch with a group of his friends and customers, and he handed me a cigar that was nearly as old as I am, a Ramon Allones Private Stock No. 1 from the early 1970s. "It could be newspaper," he said, not wanting to get my hopes up. Old cigars don't always improve—sometimes they turn to nothing, and are flavorless. This one was far from newspaper, but it was past its peak. Mine had a tight draw, and was largely showing dusty almond notes with just a touch of cedar. Very pleasant but mild. At the very end, with less than an inch left, I revisited the smoke, and it was far more intense with a long, nutty finish.
Posted: Feb 27, 2013 12:00am ET
It's 9 a.m., and I've just lit up a new Montecristo Petit No. 2. Too early for a cigar? Not here. Not in Cuba. I was given the cigars last night at the opening party for the Habanos Festival, a gathering of several hundred people at the historic Morro Castle, a sturdy fortress festooned with massive cannons that stands guard astride the Malecón. It was quite a dramatic setting for the launch of a pair of new Montecristos, the Montecristo Petit No. 2 and the Montecristo Double Edmundo. The cigars were handed out at the start of the evening. I smoked a Double Edmundo during the event, but I didn't want to pass judgment on it or take notes while smoking it outdoors in the wind. It's impossible to get all the nuances of the smoke in most outdoor settings, and this was less than ideal: breezes make cigars burn improperly, having a conversation means you don't spend enough attention on your cigar, and all that open air ensures you lose the aroma of the smoke. So this morning I'm sitting down after coffee and breakfast with a clean palate to give you an idea about the new cigars of Cuba. Of course, what I was given last night isn't necessarily what will end up on store shelves later this year when these cigars officially go on sale. These are samples. Sometimes the final product smokes better, as prototypes like this one might be rushed into production to make a deadline, such as a grand party. Sometimes they smoke better in preview. There have been times when a preview cigar has been made at one factory, and the final product is rolled at another, or several others. Either way, things might change.
Posted: Feb 26, 2013 12:00am ET
I slipped the chocolate brown cigar out of my case, clipped its head and put its foot to the flame. I took a puff, exhaled toward the ceiling of the hotel lounge and smiled. Bienvenidos a Cuba. I'm in Havana for the 15th annual Habanos Festival, that gathering of Cuban cigar retailers, distributors and unabashed fans from around the globe celebrating this island's best export. I'm one of 1,500 people here just for the Festival del Habano, and for the next week I will be smoking cigars left and right and reporting on what's going on in Cuba. The first news is the introduction of several new cigars, and the rebirth of a discontinued brand. Montecristo is one of the most important brands in Cuba, in terms of units sold, dollars raised and international prestige. Later this year the Cubans will unveil two new Montecristos: the Montecristo Petit No. 2 and the Montecristo Double Edmundo.
Posted: Feb 21, 2013 12:00am ET
For some it's that first glimpse of the lush, green fields sprawling beneath the wings of the 767 as ocean turns to land. For others it's the first sniff of aged tobacco leaves, flat and waiting to be rolled into cigars. For me it's that moment when you step from the airplane door into the gangway and feel the tropical heat and humidity hug your body in a embrace that says, "welcome back." You're in the Dominican Republic, cigar country. I left my home yesterday long before the sun rose and landed in Santiago de los Caballeros, Dominican Republic, around noon to join the 6th annual ProCigar Festival. This weeklong event brings cigar retailers and enthusiasts from around the United States and the world for immersion in the glorious world of handmade, Dominican cigars.
---
---
Search our database of more than 17,000 cigar tasting notes by score, brand, country, size, price range, year, wrapper and more, plus add your favorites to your Personal Humidor.
---
---