David Savona archive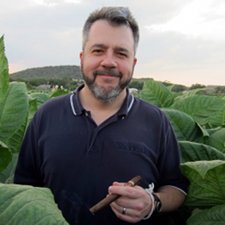 February 2012
Posted: Feb 29, 2012 4:00pm ET
It was a bright, sunny day here in Havana, but the weather would have to wait. It was time for the Habanos Festival trade fair and seminars about Cuba and the world of Cuban cigars. After a simple breakfast with hearty coffee (and another aficionado lighting up at 8 in the morning in the restaurant, with no complaints) Gordon Mott and I headed to the convention center in Miramar. We began walking around and getting the lay of the land.
Posted: Feb 29, 2012 12:00am ET
My first full day in Cuba is behind me. As I sit in my room pecking away at this blog, it's a bit past midnight, and I'm reminiscing after a long, smoky start to my trip. My first cigar of this Habanos Festival was one that's been around for some time, a Montecristo Edmundo. I've long preferred its truncated cousin, the Petit Edmundo, but this Edmundo smoked beautifully, full of rich wood notes, touches of leather and a long, succulent finish. One of the best Edmundos I've smoked. It is a current production smoke and indicative of the high quality of new Cuban cigars.
Posted: Feb 24, 2012 12:00am ET
I'm in Santiago, Dominican Republic, attending the fifth annual ProCigar Festival. The weather is warm, the cigars are copious and everyone seems to be having a good time.
Posted: Feb 22, 2012 12:00am ET
Visiting Havana is an amazing experience for a cigar smoker, but making the trek out to Pinar del Río to see Cuba's prime tobacco growing region makes that experience all the more complete. I make my way out there roughly half the times I visit the island.
Posted: Feb 16, 2012 12:00am ET
Jon Huber made a visit to the Cigar Aficionado offices the other day. It had been far too long. Jon had been a principal at C.A.O. International Inc., and he left that company to form Crowned Heads LLC. Jon has been busy working with the rest of the Crowned Heads crew on Four Kicks, their first brand, which debuted late last year.
Posted: Feb 10, 2012 12:00am ET
My brother Carey walked into my smoking room on Sunday, sat down on one of the coaches and opened up a beer. I handed him a Four Kicks Corona Gorda and we lit up, ready to watch the Super Bowl with a great group of friends.
---
---
Search our database of more than 17,000 cigar tasting notes by score, brand, country, size, price range, year, wrapper and more, plus add your favorites to your Personal Humidor.
---
---