David Savona archive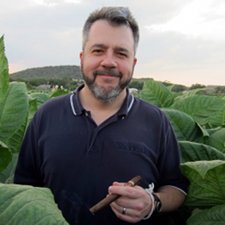 May 2007
Posted: May 27, 2007 2:37pm ET
It's Memorial Day weekend, so that means flying the flag, loading up on the beer and cigars and cooking barbecue. I'm not talking grilling—which I'll also do—I'm talking take-your-time, low-and-slow barbecue.
Posted: May 22, 2007 1:54pm ET
I was standing in the kitchen going over a few boxes of cigars. My wife, the lovely Manuela, was slicing some vegetables for the grill. "What do you think?" I asked. "Five guys, four days of golf, three boxes of cigars.
Posted: May 18, 2007 3:21pm ET
I took a long cab ride up to Washington Heights the other day with Jose Blanco of La Aurora cigars. Blanco, who directs the marketing for La Aurora, the Dominican Republic's oldest cigar maker, always seems to know what's going on in the American cigar market.
Posted: May 15, 2007 4:08pm ET
My phone rang, and the voice was a familiar one. "It's Joe Bastianich," he said. "I'd like you to come out to my house for a party. My mom will be cooking, and so will Mario." Food by Lydia Bastianich, the queen of Italian dining in New York City? Food by Mario Batali, chef at my favorite restaurant, Babbo? And at the Bastianich household? How could I say no? Yesterday afternoon I made my way up Joe's long driveway in Connecticut, where the party was already underway.
Posted: May 8, 2007 11:07pm ET
Yesterday I had lunch with cigarmaker Rocky Patel, Las Vegas cigar retailer Michael Frey and New York City retailer David Kitchens. We took an outdoor table at Rothmann's Steakhouse on East 54th Street and enjoyed the picture-perfect weather and the midtown Manhattan scenery while smoking cigars.
Posted: May 6, 2007 11:14am ET
Yesterday was a picture-perfect Derby Day, and my wife and I attended a local party with about four dozen other couples, dressed in our derby finest. It was a top-notch affair, complete with a Dixie band playing Southern favorites, country ham on homemade biscuits and honey-dipped fried chicken, and maybe just a few too many mint juleps made with sour mash bourbon.
---
---
Search our database of more than 17,000 cigar tasting notes by score, brand, country, size, price range, year, wrapper and more, plus add your favorites to your Personal Humidor.
---
---