David Savona archive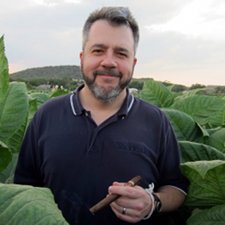 April 2007
Posted: Apr 25, 2007 4:46pm ET
I just lit a La Gloria Cubana Reserva Figurado Selectos de Lujo, one of my favorite cigars. It's a seven-inch long perfecto made from fourth priming tobacco that's blended with an emphasis on balance.
Posted: Apr 19, 2007 4:30pm ET
On the way home from work the other night I dropped in on Club Perfecto, my local cigar club. Pete Johnson was in town, and I wanted to talk to him about his Tatuaje cigars. I walked in the door, said hello to some of the people I know, then shook hands with Pete.
Posted: Apr 16, 2007 11:11am ET
This weekend's tireless rain left its mark on my house, specifically in my basement. The water poured in ("The S.S. Savona is sinking!" I shouted to my wife) which meant it was time to head downstairs and try to clean up.
Posted: Apr 12, 2007 12:29pm ET
I'm back from Chicago, site of Cigar Aficionado's latest Big Smoke, which was Tuesday night. I met quite a few happy cigar smokers, and who could blame them? They were lighting up indoors, which you can do in fewer and fewer places every day, and they sampled cigars from a host of cigarmakers, drink fine spirits, wine and beer and had a great time.
Posted: Apr 10, 2007 9:43am ET
A cigar book hit my desk the other day. I flipped through it, then stopped at a sidebar that caught my eye. "I have never tasted cinnamon in a cigar. Neither have I tasted nutmeg, leather, fruit, or a hint of straw.
Posted: Apr 4, 2007 11:50am ET
Can a cigar be too strong to enjoy? That's the gist of a recent thread in our Cuba and Cuban Cigars forum. A reader picked up a box of Bolivar Corona Extras (fine cigars, by the way) and was overwhelmed by their power, so much so that he didn't enjoy them at all.
---
---
Search our database of more than 17,000 cigar tasting notes by score, brand, country, size, price range, year, wrapper and more, plus add your favorites to your Personal Humidor.
---
---