David Savona archive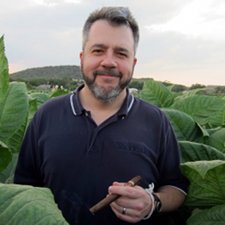 July 2008
Posted: Jul 30, 2008 4:37pm ET
I'm back in the office after the IPCPR trade show (and a little vacation), and I sat down today and went through my huge Humidipak bag that I had stuffed with goodies from the show. I smoked three new cigars, and one was a really nice gem that I didn't expect.
Posted: Jul 21, 2008 10:13am ET
I remember when Ernesto Perez-Carrillo first told me about his La Gloria Cubana Artesanos de Miami. I'm pretty sure it was in New York at Cigar Aficionado's Night to Remember dinner two years ago. I was sitting at the General Cigar table, we got to chatting, and he handed me a prototype and told me it was a new project he was working on.
Posted: Jul 17, 2008 2:41pm ET
I know it won't be easy to get sympathy here, but sometimes I have a hard job. And my job is never tougher than when it comes time to get info on new cigars from the Fuentes. Now the Fuentes are great people, and Carlos Fuente Jr.
Posted: Jul 14, 2008 8:32pm ET
The International Premium Cigar and Pipe Retailers trade show began today at 10 a.m., and I've been smoking since opening bell. I have a notebook full of scribbles on new cigars that I'm going to share with you.
Posted: Jul 14, 2008 12:04pm ET
First things first—I keep calling this IPCPR trade show by its old name, RTDA, so from now on I'm just going to say "trade show." Problem solved. It's Monday morning here in Las Vegas, and in one hour the trade show begins.
Posted: Jul 13, 2008 10:43am ET
Cigar cutter? Check. Notebooks? Check. Flip video camera? Check. In a few hours I'm flying out to Las Vegas for the annual IPCPR trade show (I still call the darn thing RTDA, just like everybody else in the cigar industry) and I'm getting my gear together.
Posted: Jul 3, 2008 2:02pm ET
The office is closing early, so I'm packing up some cigars and getting ready to head home. Tomorrow is one of my favorite holidays, Independence Day, and I plan on celebrating in smoky style. It's a day for family and for cookouts.
---
---
Search our database of more than 17,000 cigar tasting notes by score, brand, country, size, price range, year, wrapper and more, plus add your favorites to your Personal Humidor.
---
---