Gregory Mottola archive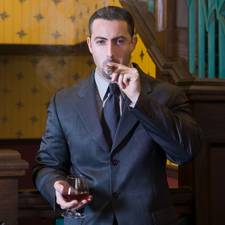 Gregory Mottola
Archives:
April 2013
Posted: Apr 2, 2013 2:00pm ET
It was almost 12 years ago when I first had an Avo Uvezian cigar. I was on a business trip in downtown Chicago and ordered it from a cigar menu after dinner back when restaurants in the Windy City still allowed you to smoke and actually provided table side cigar service. I even convinced the waitress to ring it up on the bill as dessert so that it wouldn't look questionable on my expense report when I got home. This, of course, was before I worked for Cigar Aficionado. I recall it was a Domaine Avo Robusto. Believe it or not, I still have the band. Yes, I collect bands. Call it a form of philately combined with a generally geekish instinct to collect things. No matter. That evening, I was dining alone, as I often do, and drifting a bit while smoking. Back then, even though I was a cigar smoker, I didn't know the story of Avo Uvezian's musical career and certainly never thought that nearly 12 years later I'd be dining with the man, much less celebrating his birthday. But that's exactly what I did last week. Uvezian turned 87 years old (or years "young" as Avo insisted) on Thursday. And, as has been the custom for Avo since 2001, he released a limited-edition anniversary cigar in honor of his birthday. The party was 39 stories above ground level at Manhattan's Grand Havana Room and even though there were plenty of Avo cigars being passed around during the celebratory dinner, I was really holding out for the Dominant 13th, which was the main cigar of the evening. Named after a complex jazz chord, the Dominant 13th is a 6 inch by 52 ring smoke made by Davidoff with mostly Dominican tobacco, a bit of Peruvian leaf and an Ecuadoran wrapper.
---
---
Search our database of more than 17,000 cigar tasting notes by score, brand, country, size, price range, year, wrapper and more, plus add your favorites to your Personal Humidor.
---
---