Gregory Mottola archive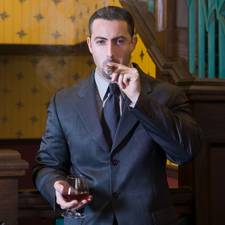 Gregory Mottola
Archives:
October 2012
Posted: Oct 15, 2012 12:00am ET
It's always been surprising to me how little scholarship there is on the subject of vintage cigars. Look at vintage wines, or antique furniture or other period-piece hobbies. They're supported by voluminous documentation and have no shortage of experts or enthusiasts. Vintage cigars, in this respect, are different, so when one comes across a true, world-class expert and collector of vintage cigars, it's like looking through a window into another era. Ajay Patel is one of those people. He owns the Casa del Habano in Teddington, just outside of London, but unlike many of these official Habanos franchise shops, this one is also stocked with verticals of rare, vintage Cuban cigars. On top of collecting, documenting and selling these treasures, Ajay smokes them too, which makes him not only an erudite of the subject, but a true authority with clear palate recall and a mental Rolodex of old Cuban brands and their respective flavor profiles. When he talks, I listen. And that's what I did recently during a private dinner and tasting of vintage cigars in New York City.
---
---
Search our database of more than 17,000 cigar tasting notes by score, brand, country, size, price range, year, wrapper and more, plus add your favorites to your Personal Humidor.
---
---