Gregory Mottola archive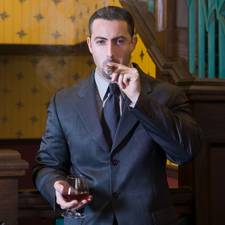 Gregory Mottola
Archives:
February 2014
Posted: Feb 28, 2014 10:00am ET
I berate myself every year for not visiting the Davidoff factory during the ProCigar festival. I've been to their field tour in Jicomé plenty of times, but the factory has always escaped me. Not this time. People may not be aware that the facility is broken up into three sections: Cigars Davidoff, where White Label, Davidoff Nicaragua (aka. Black Label) and Puro D'Oro are made. That's on the top floor. Then there's OK Cigars where they produce brands like Avo Uvezian and Zino. It's on the ground floor. And in an adjacent building is another factory altogether. That's where they make Cusano, Hammer + Sickle, Corazon and other ancillary or third-party brands. All, of course under the watchful eye of Davidoff's master blender and primary operations manager Hendrik "Henke" Kelner.
Posted: Feb 27, 2014 12:00pm ET
Before last week, I had never attended the first part of ProCigar's yearly festival. It always came at a time that was difficult for me to get out of the office, and it only has one cigar-centric tour anyway. Seeing how this year was my fifth ProCigar Festival, and how we had a bit of downtime here in our editorial cycle, I decided to go for the whole trip. Plus, there was always the guilt factor nagging at me. Outside of a factory tour on the way to Santiago, the first leg is pretty much a vacation at Casa de Campo. Yeah, there are cigars waiting for you in your hotel room, and yes, there is a cigar dinner every night, but let's be honest-it's a vacation. Don't get me wrong, I'm not complaining. Not at all. The warm weather was a welcome change from the winter wasteland I left behind in New York, and I was much happier sunbathing on the sapphire shores of Minatas beach rather than shivering on the dirty platform of a subway station, merely looking at a billboard of Minatas beach. So I jumped straight out of the misery of a New York winter and right into the pages of a brochure.
---
---
Search our database of more than 17,000 cigar tasting notes by score, brand, country, size, price range, year, wrapper and more, plus add your favorites to your Personal Humidor.
---
---