Gregory Mottola archive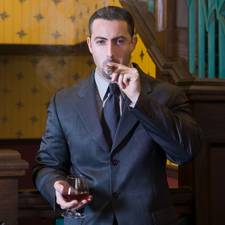 Gregory Mottola
Archives:
January 2016
Posted: Jan 25, 2016 12:00pm ET
Puro Sabor took a big chance with their White Party. It was held under the stars right in Estelí. The requirements were simple: wear white. The weather was beautiful, as it tends to be this time of year in this part of Nicaragua. But what if it rained? What was "plan B?"
Posted: Jan 15, 2016 4:00pm ET
There's an unwritten rule about cigar festivals: The music has to be loud. Very loud. This is what I thought to myself as I walked into Puro Humo. That's the name given to the cigar party held on the second night of the fifth "Festival del Tabaco Puro Sabor Nicaragua," or just Nicaraguan Cigar Festival for short.
Posted: Jan 14, 2016 12:00am ET
I'm flopping around like a fish in the back of a pickup truck in Nicaragua, trying to smoke a cigar, but I can't manage to find my mouth. This is my fault for not wearing a seat belt. The truck is climbing up a rocky mountain, going in and out of craters on a path that some people might consider a road. I continue to bounce and shake and flop and now the sun has completely disappeared.
---
---
Search our database of more than 17,000 cigar tasting notes by score, brand, country, size, price range, year, wrapper and more, plus add your favorites to your Personal Humidor.
---
---